Delta News
Eastern Dakotas: Blue-Winged Teal Central
Tyler Shoberg, Associate Editor on 04/10/2014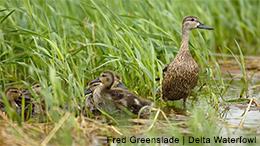 Agile and flighty, blue-winged teal are fun to hunt. With early special September seasons that target teal in the United States, and ample opportunity throughout the fall, the tiny twisters are one of the most popular ducks for North American waterfowl hunters.
However, many hunters have little clue about where North America's second-most-abundant duck come from. The report, "Distribution and Derivation of Blue-winged Teal (Anas discors) Harvest, 1970-2003," contains some brow-raising revelations.
Not only is hunter harvest of bluewings low — in 2012, an estimated 1.4 million were killed when the breeding population was pegged at 9.2 million — but in every flyway, many blue-winged teal taken stem from a small geographic location: the Eastern Dakotas. It's a surprising finding for a duck species with a breeding range that stretches from Alaska to Texas, and the Pacific Coast to the Atlantic Coast.
"In any state that shot blue-winged teal, a massive proportion came from the eastern Dakotas during a period of very wet conditions and a lot of Conservation Reserve Program cover on the landscape," said Mike Szymanski, North Dakota Game and Fish migratory game bird biologist who co-authored the report. "The Dakotas are an absolute core of the blue-winged teal population."
Although the data in the report is a decade old, Szymanski said the findings remain relevant today. He and co-author James Dubovsky, the Central Flyway representative for the U.S. Fish and Wildlife Service's Division of Migratory Bird Management, used blue-winged teal band return data to formulate conclusions on breeding areas and hunter harvest.
What Szymanski and Dubovsky discovered was that from 1970 to 2003 in the Pacific, Central, Mississippi and Atlantic flyways, nearly 30 percent of blue-winged teal killed came from the pothole- and grassland-rich Eastern Dakotas. A more intriguing story unfolds when the data is segmented. From 1970 to 1993, the same area contributed 17.3 percent to 26.8 percent of all blue-winged teal harvested. Drought hindered productivity in the mid-1990s, but then, a lengthy wet cycle turned the Eastern Dakotas into a duck factory.
With plenty of potholes and millions of acres of perennial grassland cover thanks to CRP — as well as diminishing habitat from drained wetlands and increased agriculture in prairie Canada — nesting bluewings flocked to the Eastern Dakotas. From 1994-2003, a staggering 42.6 percent of the total blue-winged teal harvested were hatched in the Eastern Dakotas. So when hunters harvested nearly 1 million bluewings in 2003, an estimated 426,000 of those teal originated from this key breeding area.
"With the declines in Canada and the phenomenal conditions, we had this perfect storm of teal production in the Eastern Dakotas," explained Frank Rohwer, Delta Waterfowl president.
With the blue-winged teal breeding population recently reaching historic high levels, the strength of the Eastern Dakotas as a duck production area clearly has been a boon to hunters across the United States.
However, a note of caution: "We know we're not going to have as much CPR moving forward, and we really don't know what the wetland conditions are going to be in coming years," Szymanski said. "Our potential production in the Eastern Dakotas is going down."