Delta News
Teal Spotlighted on 30th Canada Duck Stamp
Tyler Shoberg, Associate Editor on 04/11/2014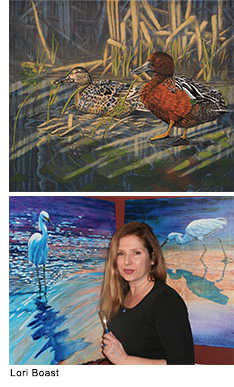 A painted pair of cinnamon teal bathed in sunlight by Winnipeg, Manitoba, artist Lori Boast will grace the 2014 Canadian Wildlife Habitat Conservation Stamp.
Boast's "Sun Kissed Cinnamon — Cinnamon Teal" bested a flock of 12 entrants in Wildlife Habitat Canada's juried art competition, which is celebrating its 30th year. The stamp is required for waterfowlers to validate their migratory game bird hunting permit. To date, habitat stamp purchases have raised more than $60 million dollars that have funded 1,500 conservation projects across Canada.
The 2014 cinnamon teal stamp followed on the heels of last year's habitat stamp featuring long-tailed ducks. The 2015 habitat stamp will highlight different migratory birds: mourning doves.
Wildlife Habitat Canada is a nonprofit conservation organization focused on wildlife habitat. Funding from Canadian Wildlife Habitat Conservation Stamp sales have also supported Delta Waterfowl's Alternative Land Use Services projects in Alberta.
"We've enjoyed a long partnership with Wildlife Habitat Canada," said Jonathan Scarth, Delta Waterfowl senior vice president of policy. "Through the habitat stamp program, waterfowlers have had the opportunity to support Canadian wetlands and grasslands critical to duck production."