Delta News
King Eider Painting to Grace 2014-15 Junior Duck Stamp
Posted on 04/24/2014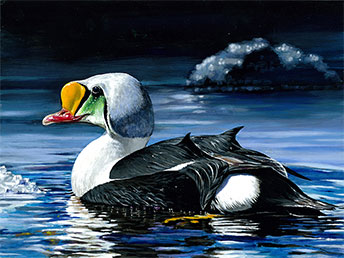 Si Youn Kim's stunning depiction of a king eider took top honors during the recently judged U.S. Fish and Wildlife Service Federal Junior Duck Stamp competition in Shepherdstown, W. Va.
The acrylic painting by the Tenafly, N.J., 16-year-old earned its creator $1,000 and a home on the 2014-15 Junior Duck Stamp. This year, more than 29,000 students participated in the annual national conservation program.
"The Junior Duck Stamp Program is a great way for young people to use their creative talents to express an appreciation for nature and the world around them," said Dan Ashe, USFWS director.
Proceeds from sales of the $5 Junior Duck Stamp support environmental education.
For more information and complete contest results, visit http://www.fws.gov/juniorduck/.