Delta News
Canada Aims to Make Game Laws More Hunter-Friendly
Tyler Shoberg, Associate Editor on 04/28/2014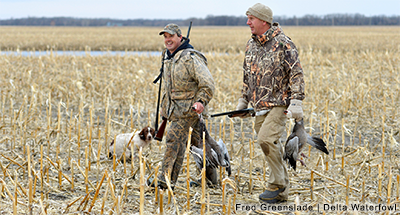 Canadian waterfowl hunters have a chance to comment on a rare overhaul of federal migratory bird regulations.
The Government of Canada is proposing a modernization of the laws that govern duck and goose hunting — including possession limits, labeling, transportation, wastage and processing — to make them more hunter-friendly and easier to understand. Delta Waterfowl requested this overhaul, and helped with suggestions to reduce outdated and unnecessary rules.
"The Government of Canada is providing a once-in-a-lifetime opportunity for waterfowl hunters," said Jonathan Scarth, senior vice president of policy for Delta Waterfowl. "These changes will not only benefit hunters afield, but make it easier for newcomers to the waterfowling tradition."
Under the proposals, the definition of what harvested birds count toward a hunter's possession limit would be clarified so that processed birds are not considered in possession. Hunters who clean and freeze their ducks or geese at home or hunting camp can rest assured these birds will no longer count towards their possession limit. This change not only clarifies the law, but also encourages hunters to process their birds quickly.
Another proposed change would allow hunters the choice of leaving a wing or head attached to migratory birds for identification purposes until they are processed.
"Although it may not be as significant a change for ducks, geese will be much easier to package and legally transport with just a head attached," Scarth said.
Another proposal clarifies the labeling law for transferring birds for processing or consumption. Labels must include the original hunter's name, address, their permit number and signature. Packages of birds must be frozen so as to allow the number of birds to be determined.
Along with the aforementioned proposals, the complete details of all the proposed changes are outlined in a document available HERE.
Delta Waterfowl is a member of Canada's federal Hunting and Angling Advisory Panel, which met with the federal Minister of Environment and her staff on several occasions to review these draft proposals. The current proposals represent changes to the federal Migratory Birds Regulations, which are authorized by Canada's Migratory Birds Convention Act. They have been published to allow for public comment until June 9. Following this comment period, the proposals will be considered and approved in final form by the federal Cabinet.
Delta Waterfowl is urging its Canadian members to take a few minutes to let their voices be heard. To send comments via email, please visit our Votility Page and fill in the form. Your comments will be directly submitted to reviewers at Environment Canada.
Mailed letters should be addressed to: Director, Population Conservation and Management, Canadian Wildlife Service, Environment Canada, Gatineau, Quebec Canada K1A 0H3.
"It is imperative that hunters take advantage of this rare opportunity to speak up regarding these regulatory changes," Scarth said.