Delta News
Becoming a Better Dog Trainer — Part 2: Patience With Your Pup
Tyler Shoberg, Associate Editor on 05/12/2014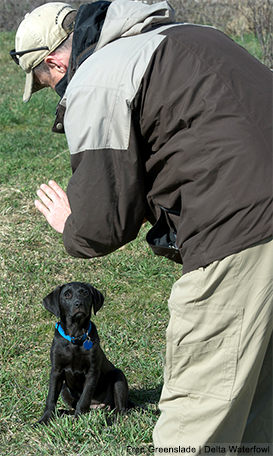 As we discussed in Part 1, there's more to dog training than simply following a program: You need to teach yourself how to train. Remembering to stay calm and focused is the first step in that process. The second step is to be patient.
Patience might seem fairly straightforward, especially for a diehard waterfowler who has spent more than a few days in the blind under skies void of birds. Patience is simply part of hunting. But whether you've been short-stopped by early-season honkers or overlooked by high-flying mallards, your patience has never been stretched the way a young dog will test you.
Training is work. Likely, up to this point, your pup's life has been pretty fun. Playing fetch in the yard, getting belly rubs and maybe even a few table scraps has your pup loving life. When party time is over, dogs will do everything in their power to find ways out of work. Your job as a trainer is to remain patient and work through these bumps.
If things aren't going well on a particular session, take a step back in the training process. Make your retriever successful, and end on a positive note. The next training session you can pick up where you left off before pushing through to more advanced material.
But if you're impatient or push too hard, you and your dog will take a long time to work things out. And the less patience you have, the more apt you are to get frazzled and emotional. When you lose your cool, it's too late. The dog won.
Coming Soon — Part 3: Consistency is Key