Delta News
Kneisley Crafts Pair of Winning Ducks
Tyler Shoberg, Associate Editor on 05/12/2014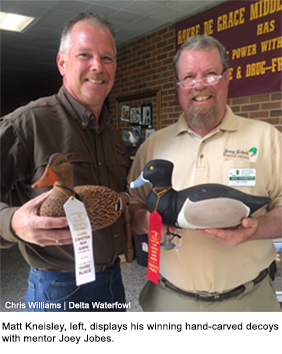 One of Delta Waterfowl's newest regional directors took high honors for a couple of his hand-carved decoys. Matt Kneisley placed second and third in the River Gunning Class during the 33rd Annual Havre de Grace (Md.) Decoy and Wildlife Art Festival in early May. It was the first time he'd ever entered his decoys in a competition.
"I felt honored, I was against some really good competition," said Kneisley, of Lancaster, Pa. "I honestly didn't think I'd place."
His drake ring-necked duck took second, while a hen mallard snatched third. A River Gunning Class decoy has to be self-righting, is judged on the water from 20 feet away, and must be created in such a way that it can be easily replicated. Kneisley's decoys were carved in the Upper Chesapeake Bay style, a design synonymous with East Coast gunning.
Kneisley, 43, has been carving decoys since he was 6 years old, and credited his father, Ron, with sparking his waterfowling obsession. He also thanked professional decoy carver Joey Jobes for his mentorship. With his first competitive decoy wins behind him, Kneisley's next goal is to finish carving a 120-decoy spread for his daughter, Makenzie.
As regional events director of the Northeast Atlantic Flyway, Kneisley works with Delta chapters in Pennsylvania, New York, Northern Maryland, Delaware, New Jersey, Connecticut, Vermont, New Hampshire, Rhode Island, Massachusetts and Maine.