Delta News
Well-Timed Spring Rains Great for Nesting Ducks
Tyler Shoberg, Associate Editor on 05/12/2014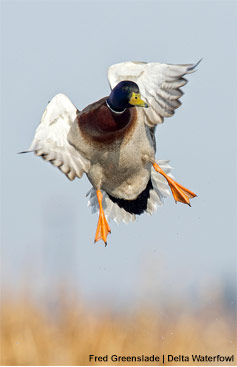 April showers have brought more than May flowers — they topped off basins, filled wetlands and created ideal habitat for waterfowl across North America's Prairie Pothole Region. Combined with above-average fall moisture and decent winter snowfall, fortuitous spring rain was the final ingredient needed to create a near-perfect recipe for a duck-nesting bonanza.
"In North Dakota, we've definitely received good moisture and are seeing good wetland conditions this spring," said Mike Szymanski, migratory game bird biologist with the North Dakota Game and Fish Department. "Another inch of rain or two in the next couple weeks would be a good thing for brood habitat, too."
April rains fell heavily across most of North America's prairie breeding grounds, recharging the ponds and wetlands critical to keeping the "Duck Factory" firing on all cylinders. North Dakota saw above-average precipitation, with all but the extreme southwest corner receiving more than double the normal snow and rainfall for the month. Other Prairie Pothole states witnessed at least average precipitation in April, including central and western Minnesota and northeastern Montana. Only southeast South Dakota, central Nebraska and northwest Iowa could have used a few more drops.
Early observations by biologists and pilots just taking to the air for the 2014 Breeding Population and Habitat Survey are good, too. A cooperative effort of the U.S. Fish and Wildlife Service, the Canadian Wildlife Service, and state, provincial and tribal agencies, this survey covers more than 2.1 million square miles and includes most of the primary duck nesting areas in North America. The first of a dozen crews stationed throughout Canada and the United States took off May 4 out of Pierre, S.D.
"We were encouraged to see the good habitat conditions present from Pierre to Rapid City, with many basins 80 to 100 percent full. This is a big difference from last year, when this area was really dry," wrote Rob Spangler in his pilot biologist report on flyways.us. "The recent rains helped considerably. We are seeing good numbers of gadwall, blue-winged teal, mallard and northern shoveler."
Water condition reports from Prairie Canada are encouraging, too. According to Agriculture and Agri-Food Canada, April was a soaker for Saskatchewan, which is well saturated after receiving double the average precipitation for the month. Southwestern Manitoba is singing the same tune after an exceptionally wet spring, and prairie Alberta is at least average or above average in most of its duckiest areas.
The copious moisture across the prairie is in stark contrast to conditions last year. Pam Garrettson, a former Delta Waterfowl student and current biologist with USFWS, recalled the dry, foreboding spring of 2013 as she recently worked the air-ground corrections in the western Dakotas-eastern Montana survey crew area.
"Last year it was so dry, the ground literally crunched underneath our feet," she wrote. "This year the soil is soft, even spongy in spots, wetland basins are full, and there's water from recent rains pooled in the fields."