Delta News
Teal Time For Upper Mississippi Flyway States
Paul Wait, Magazine Editor on 06/02/2014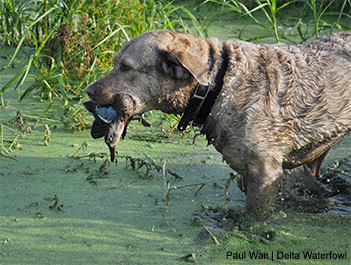 Duck hunters in Iowa, Michigan and Wisconsin who have longed to try a bonus September teal hunt like those afforded to waterfowlers farther down the Mississippi Flyway could get their shot this fall.
Following recent record breeding population estimates for blue-winged and green-winged teal, the U.S. Fish and Wildlife Service has reconsidered the request by the northern block of states — which are deemed duck production areas — to allow a special September season like those enjoyed by non-production states to the south.
"Blue-winged teal are an abundant and lightly harvested species, so we certainly support the additional proposed hunting opportunity being offered to the northern states," said Dr. Frank Rohwer, president of Delta Waterfowl.
A bulk of the blue-winged teal migrate before the regular duck season begins in late September in Wisconsin and Michigan.
"Every year, I hear our hunters complain that hunters down south get to hunt teal, and it's not fair," said Kent Van Horn, waterfowl ecologist for the Wisconsin Department of Natural Resources. "Our duck hunters want more hunting opportunity. We produce teal in Wisconsin, but don't get to hunt them before they leave."
With the expectation that the USFWS will approve a three-year experimental teal-only season for Mississippi Flyway production states, Wisconsin and Michigan have proposed seven-day seasons to run Sept. 1 to 7, while Iowa has put forth a 16-day season to run Sept. 6 to 21. Minnesota has declined the option of a teal season in 2014.
Wisconsin and Michigan could have taken 16-day seasons, but doing so would have overlapped youth hunt dates and potentially affected duck distribution for the regular opener, Van Horn said.
"Our proposal is a compromise," he said. "I think some of the opposition (to the season) will look at it and say it's reasonable. When it all shakes out, people won't turn down added opportunities."
Each state offering a teal season has to conduct spy blind studies, an exercise where trained observers watch hunters to record the percentage of shots taken at non-targets (ducks other than teal). If the percentage is too high, the USFWS will end the experiment and eliminate the season.
"We're being evaluated, so if you're not 100 percent sure it's a teal, don't shoot," Van Horn said.
Shooting hours are more restrictive — sunrise to 7 p.m. in Wisconsin — in an effort to reduce mistaken identity during low light periods. Each state will have daily bag limits of six teal.
Michigan is planning to offer a duck identification component in its literature and media about the early teal season, according to Barbara Avers, waterfowl specialist for the Michigan Department of Natural Resources.
"There are a lot of brown ducks flying around in September," she said. "The ultimate success will be observing that our hunters are shooting teal. A lot of our hunters are pretty excited about the teal season."
Iowa, which has traditionally had a five-day early duck season in September, will move those five days to join up with the rest of the regular season, according to Orrin Jones, waterfowl research biologist for the Iowa Department of Natural Resources.
"It's going to change the regular season, pushing it later," he said. "The reasoning for taking the teal season was to try to catch the end of the blue-winged teal migration. It wasn't an easy decision, but we're getting additional duck hunting days."
Although Minnesota has ruled out offering a special teal season in 2014, the state could reconsider the proposal for 2015 campaign.
"We're going to wait and get better public opinion after this waterfowl season," said Steve Cordts, waterfowl biologist for the Minnesota Department of Natural Resources. "There's a fair amount of opposition."
Minnesota waterfowlers have raised a litany of reasons not to participate: Concerns over chasing ducks out of the state before the regular duck opener, hunters shooting ducks other than teal, a change in tradition, hot weather and bugs, according to Cordts.
Duck misidentification is certainly a valid point. Even though long-term averages put Minnesota's breeding population of blue-winged at 225,000, the state produces a healthy number of mallards and wood ducks, resident ducks that occupy the same September habitat as teal.
"Blue-winged teal are not the most abundant duck in Minnesota in early September," Cordts said. "About 70 percent are not teal."
Still, Minnesota might offer the teal season in 2015 if hunters want it.
"Having the option of holding a teal season is better than not having an option at all," Cordts said.