Delta News
Defending Carolina Duck Hunters
Tyler Shoberg, Associate Editor on 06/12/2014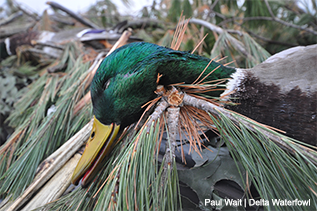 Picture a perfect waterfowling morning: Sunrise breaking through a cloudbank above seemingly endless marshland. Ducks trading from brackish tidewater flats to a tangle of rivers and creeks. The hum of towering 115-kilovolt power lines overhead.
OK, maybe not so perfect.
This could be the scenario that plays out at South Carolina's treasured Santee Delta and Santee-Delta Wildlife Management Area if a proposed transmission line project comes to fruition. Home to waterfowl and the highest concentration of wintering mallards in the state, as well as other game, nongame and threatened species, the Georgetown, S.C., marshland provides critical habitat and hunting opportunity just minutes from the Atlantic coast.
"The proposed transmission lines are going to cut right through the heart of South Carolina's public waterfowl hunting jewel," said John Devney, Delta Waterfowl vice president of U.S. policy. "Our members are concerned, and so are we."
Rural Utilities Service has proposed to run 15 to 20 miles of power lines, supported by towering pylons, across the Santee Delta to nearby McClellanville, S.C. Six plans have been publicized, all of which involve crossing the delta. One plan also would cross 1,700-acre Santee-Delta WMA, seriously disrupting wildlife and waterfowlers who rely on the area.
Critical habitat to native and wintering waterfowl, the introduction of such intrusive structures as power lines would hurt an environmentally sensitive area. And because Santee Delta holds so many wintering ducks, nearby managed hunting clubs and public hunting ground likely would be impacted, too.
Buford Mabry, retired chief council for the South Carolina Department of Natural Resources and a Delta Waterfowl committee volunteer, is adamantly opposed to the transmission line project.
"At a recent public meeting held by RUS, a lot of local people from McClellanville who would benefit of the power spoke in opposition to it crossing the Santee Delta," Mabry said. "People in the area treasure that wilderness property as part of their heritage. It is a natural treasure."
Delta Waterfowl opposes the transmission line project bisecting the Santee WMA, and has drafted a letter of concern. Waterfowlers across the country are urged to use our Votility service at https://account.votility.com/enterprise/DeltaWaterfowl/ec/79 to voice their own concerns about the detrimental plan.
"I'm not a biologist, I'm a retired lawyer. But even I know that if you put any kind of line, whether alive or not across an impoundment, it will interfere with ducks coming in," Mabry said. "I knew Delta was the right organization to turn to in this case, because it stands up for hunters no matter what."