Delta News
Lucky No. 007: Duck Cam Documents First Hatch of 2014
Tyler Shoberg, Associate Editor on 06/16/2014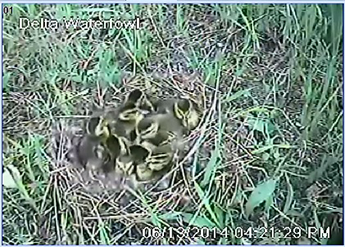 To the surprise and delight of a worldwide Internet audience, the question of whether Blue-Winged Teal 007 would hatch her clutch was answered live at deltaduckcam.com.
Despite long odds, the opening act of Delta Waterfowl's streaming nest camera resulted in the successful hatch of 10 new bluewings on Friday, June 13. The first duckling appeared at 10:30 a.m., and during the next several hours, the remaining siblings appeared one-by-one. Blue-Winged Teal 007, named because her nest was the seventh found in the field, then gathered the brood and led them away from their grassland home at 7:07 a.m. the next day, likely to one of dozens of nearby wetlands.
She began incubation May 21, a few days before the Duck Cam went live. The streaming webcam captured every moment — from incubation to egg rolling to the first ducklings — highlights of which can be seen on Delta Waterfowl's Facebook page (facebook.com/deltafans) and YouTube channel (youtube.com/user/DeltaWaterfowlOnline).
"It was pretty incredible to see those little yellow fuzzballs start popping their heads out from underneath her," said Matt Chouinard, Delta Waterfowl staff biologist. "It's amazing to think she was successful in a place with such bad odds."
The prairie pothole field used for the Duck Cam is on a non-trapped quarter of grassland in northcentral North Dakota, an area where as few as one out of every 20 duck nests will hatch successfully. Research has shown one out of every six or seven nests must hatch in order to sustain waterfowl populations.
Field technicians stationed near the Duck Cam have searched the field for more nests, and will be moving the camera to a new site shortly. While Blue-Winged Teal 007 was successful, the next Duck Cam star might not be so lucky, especially if a nest-raiding skunk, fox, raccoon or coyote finds her first. In such an event, or if there is a successful hatch, the field techs will continue move it the Duck Cam to a fresh nest. The streaming video will roll throughout the nesting season, which likely will last through mid-July.
Don't miss out on any of the excitement of life on the prairies for wild nesting ducks. Visit deltaduckcam.com today to see what the buzz is all about.
"This is a window into a world very few people witness," Chouinard said. "What an opportunity for waterfowl enthusiasts everywhere."