Delta News
$15 Well Spent: Duck Stamp Sales Open Today
Tyler Shoberg, Associate Editor on 06/27/2014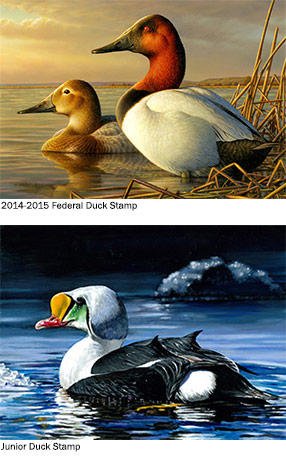 Duck and goose hunters, bust out your wallets: The 2014-2015 Federal Duck Stamp goes on sale today. The iconic $15 stamp — this year it portrays a stoic pair of canvasbacks by Adam Grimm of Burbank, S.D — is required for waterfowlers 16 and older who wish to target migratory birds.
The stamp also acts as a pass for national wildlife refuges, many of which are open to public hunting. Out of every dollar spent on the Federal Duck Stamp, 98 cents goes toward the purchase or lease of critical waterfowl habitat. It's often referred to as one of the most successful conservation programs ever initiated, and has generated more than $800 million to protect over 6 million acres of wetlands since its inception in 1934.
Duck Stamps can be purchased in several ways. The United States Postal Service sells them at most post office locations, or by calling (800) 782-6724. Stamps can be purchased at most national wildlife refuges, too. Visit fws.gov/refuges for more details.
An E-Stamp is another convenient way to buy a Federal Duck Stamp. A pilot program by the U.S Fish and Wildlife Service, the online stamp is valid for 45 days from the date of purchase and authorizes the customer to use it immediately following the purchase as long as the stamp privilege is printed out, signed and in possession when hunting.
The actual Federal Duck Stamp will be mailed within 45 days of buying an E-Stamp. Anyone, regardless of their resident state, can purchase one online through the following wildlife department websites of Arkansas, Colorado, Florida, Idaho, Maryland, Minnesota, Texas and Wisconsin.
The Junior Duck Stamp also goes on sale today. A king eider painted by 16-year-old Si Youn Kim of Tenafly, N.J., graces the $5 stamp. Part of a yearlong national conservation program, Junior Duck Stamp sales fund environmental education. They can be purchased in similar locations as federal duck stamps. Visit fws.gov/juniorduck for more information.