Delta News
Summer Issue Features Ducks Tomorrow
Posted on 07/14/2014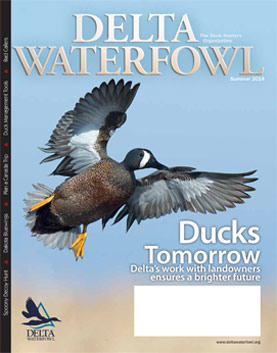 The new issue of Delta Waterfowl magazine is in the mail.
We highlight Delta's work with landowners to ensure healthy fall flights long into the future, and look at the tools and programs that produce more ducks. Photographer Fred Greenslade shares a slew of stunning images of breeding waterfowl in the Delta Marsh, and we present what is likely the most spectacular rig of shoveler decoys ever to float in front of a duck blind.
Contributor David Hart shares pointers on hunting reservoirs, while Brad Fenson gives advice on hunting prairie Canada's ducks and Kyle Wintersteen relates a heartwarming story about how some friends refused to let a debilitating injury ruin one hunter's duck season.
If you aren't a member of Delta Waterfowl, you're missing out. If you are, thanks, and enjoy the magazine!