Delta News
Delta Waterfowl's 2014 Hunt Annual Coming Soon
Posted on 08/12/2014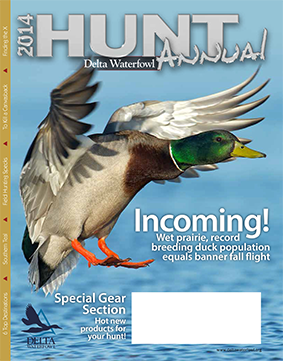 We're fired up for a spectacular waterfowl season, and we want to help you get ready for zipping teal, backpedaling mallards, zooming canvasbacks and cacophonies of Canada geese.
How?
We're delivering the 2014 Hunt Annual to all Delta Waterfowl members. This special season preparation issue — the largest magazine we've ever produced — is absolutely loaded with how-to features, top destinations, a comprehensive new gear section and the best duck flight forecast report in the waterfowl world.
Features are spread out over all four flyways, from Prince Edward Island, Canada to Louisiana to California and points between. Whether you hunt big-water divers or field geese, ply the timber or hunt rivers, the Hunt Annual has you covered. Need a new shotgun or more decoys? Looking for waders and a duck call? Blinds and ammo? We can help you choose the best products from companies that support Delta Waterfowl.
We like to refer to the Hunt Annual issue as filet mignon and chocolate cake for waterfowl hunters.
Here's the best part: If you are an active member, the 2014 Hunt Annual is coming soon to your mailbox. Enjoy!