Delta News
Bonus Bluewings
Paul Wait, Magazine Editor on 08/18/2014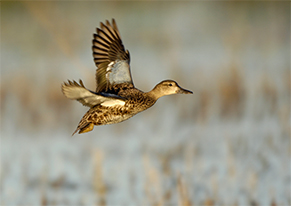 BLUE-WINGED TEAL are thriving, and as a result, many more duck hunters will have a shot — literally — at them this season.
Spurred by a soaring population that has moved bluewings to become the second-most abundant breeding duck in North America, the U.S. Fish and Wildlife Service is allowing several states in the Mississippi, Central and Atlantic flyways to add opportunities for teal harvest this season.
Hunters in the Central Flyway states North Dakota, South Dakota, Montana and Wyoming will be allowed two "bonus" blue-winged teal for the first 16 days of the regular season. The extra teal could give hunters an aggregate daily limit of eight ducks.
In the Mississippi Flyway, four northern states were given the option to have an early September teal season of up to 16 days. Wisconsin and Michigan opted for seven-day seasons to start on Sept. 1, while Iowa took the full 16 days. Minnesota declined the option. The daily bag limit for the September season in each state is six teal, and green-winged teal can taken.
Florida, Kentucky and Tennessee hunters will have expanded September seasons, too. The daily limit in all three states increases to six ducks during the five-day early teal/wood duck season, with two wood ducks allowed. Each state can add four additional days of teal-only hunting in September, with a daily limit of six ducks.
Blue-winged teal were estimated at 8.54 million in the spring breeding population survey, which is 75 percent above the long-term average. The past four spring estimates (2011 to 2014) have been the highest in the 60-year history of the breeding index survey.
Because bluewings are early migrators — some leave the breeding grounds in August — and winter in the far south, hunter harvest is low, particularly in the north. A lot of bluewings are gone before regular duck seasons open, so hunters in northern states have historically missed out on the bulk of the migration.
For the 2013-2014 season, harvest estimates put the bluewing take at 1.47 million during regular duck seasons in the United States, with an additional 607,510 shot during September seasons. Texas and Louisiana, which have enjoyed 16-day early September teal seasons in recent years, lead the way in blue-winged teal harvest. Louisiana hunters shot an estimated 957,000 bluewings last season, while Texas hunters took 321,000. By comparison, hunters in North Dakota and South Dakota — where as many as 43 percent of North America's blue-winged teal hatch — combined to shoot 83,000 last season.