Delta News
Hunt of the Year
Paul Wait, Magazine Editor on 09/19/2014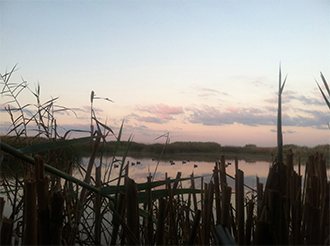 I might not sleep a wink tonight.
The duck skiff? It's ready. Just need to lift it into the truck in the morning and strap it down.
Decoys? Two-dozen Texas-rigged, with motion rigs packed for easy deployment. All set for clothing, too, with camo rainwear stowed in the blind bag because the forecast calls for scattered showers. Shotgun and ammo: Locked and loaded. OK, not loaded yet, but you know what I mean. Paddles and life jackets. Got 'em. License? Check.
You're thinking: Must be opening day for me tomorrow.
Nope. That's next weekend.
Tomorrow morning is the beginning of Wisconsin's annual two-day youth waterfowl season. I've hunted this special season before. Not as a youngster, though. They didn't have such a season when I started hunting ducks and geese in 1982. However, several years ago, I mentored a kid from my neighborhood. We had a great hunt, and he shot his first two ducks, a pair of teal.
This season, I get to experience the youth duck hunt again. And this time, it's with my own budding duck hunter — my 13-year-old daughter, Brooke.
Tomorrow is a day we've been building toward for years. She's been around the duck hunting lifestyle all of her life. Even as a toddler, she could identify and name ducks as well as most kids know their cartoon characters. She's a natural hunter, patiently stalking and pouncing on frogs and toads for years. And yes, she's been out hunting with me, sitting stone-still as turkeys answered my yelps and purrs. She's taken hunter safety class, and we've been to the range to shoot.
In the morning, she'll have the shotgun in her hands. It's my turn to watch, to advise and to take in a hunt through her eyes. It's Brooke's hunt.
I've scouted the marshy lake where we're going. Wood ducks will be plentiful, and I'm confident we'll see teal and mallards, too.
I asked her yesterday what decoys she thought we should take.
"Dad, I want my first duck to be a bufflehead," she said. "So can we take bufflehead decoys?"
"I doubt we're going to see any buffleheads," I told her. "They come through later, usually toward the end of October. But sure, we can throw out a couple buffie decoys."
"Yay!" she cheered. "What about pintails? Can we put out some pintail decoys?"
I nodded.
Brooke's favorite color is purple, which is why, I suspect, she's such a fan of buffleheads. Might explain the pintail desire, too.
And hey, shooting a pintail is certainly a possibility. I've seen them in September in the Wisconsin marshes I hunt. Wouldn't that be a cool first duck?
Personally, I'm hoping for a blue-winged teal. My dad was at the stern of the skiff when I shot my first duck — a quick little bluewing that skirted the edge of a Wisconsin marsh much like the one we'll be paddling to in the dark in just a few hours.
But whether it's a teal or a wood duck or if she doesn't shoot a duck at all, tomorrow morning, I'll be out in the marsh hunting ducks with my daughter.
And that's what matters most of all.