Delta News
New York Artist Wins U.S. Duck Stamp Competition
Tyler Shoberg, Associate Editor on 09/23/2014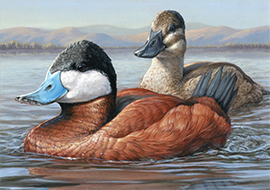 A swimming pair of ruddy ducks by artist Jennifer Miller will become the 2015-2016 Federal Duck Stamp.
Miller, of Olean, N.Y., won the juried competition on Sept. 20, when her acrylic painting was judged the best of 186 entries. Eligible species in this year's contest included brant, Canada goose, northern shoveler, red-breasted merganser and ruddy duck.
According to information on her Featherdust Studios website, Miller is a mostly self-taught artist with no formal training. She draws inspiration from being outdoors, and enjoys spending time in the woods.
The Federal Migratory Bird Hunting and Conservation Stamp, or Duck Stamp, sells for $15 and raises about $25 million annually. Of that, 98 percent goes directly to purchase, conserve and protect wetland habitats for migratory birds in the National Wildlife Refuge System. The duck stamp program began in the United States in 1934.
"The federal Duck Stamp is one of this nation's most successful conservation efforts," said Jerome Ford, U.S. Fish and Wildlife Service assistant director for migratory birds. "Buying a Federal Duck Stamp is the simplest way to help save our nation's disappearing wetlands and ensure ducks, geese and thousands of other species of birds and other wildlife don't lose their homes."