Delta News
Save a Hunt, Know When to Punt
Tyler Shoberg, Associate Editor on 11/03/2014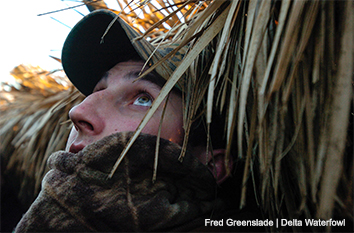 It was the weekend before Halloween, but instead of duck hunting, I tackled a mile-long honey-do list in hopes of banking passes for later. The tactic was timely. With weeks of hunting pressure and unseasonably warm weather across North Dakota, folks were scouting hundreds of miles a day with little to show for it.
At least, the hunters who were looking for fields seemed to be struggling. I heard very different accounts from those targeting sloughs — a demographic that appear to be the minority lately around here — and capitalizing on ample water-loving ducks, such as divers, teal, shovelers and gadwalls.
If you make a trip anywhere during the hunting season, you'll likely have a strategy in mind. Maybe it will be layout boat for divers, or hunting ponds for teal and gadwalls, or even the aforementioned fields for mallards and geese. But what happens if Plan A falls through and you don't have a fallback?
When Delta Waterfowl editor Paul Wait hunts divers on the Great Lakes, he counts on getting kicked off from foul weather at times. But he doesn't sit around and wallow when howling winds turn open water into high seas.
"If we can't get on the big water, there are places to hunt that aren't as susceptible to high winds," he said.
The same goes for hunters taking a trip to a Prairie Pothole Region state or Canadian province. Hunting fields for feeding geese and ducks might be your preferred method, it's never a bad idea to bring waders and water decoys for a just-in-case scenario.
Recent accounts from North Dakota are case-in-point. It had been more than a month since the resident opener with very little in the form of migration since. Local birds had either moved on or were pressured to the point of being skittish. Because of a later planting, most corn hadn't been touched by combines. And harvested small grain or bean fields that attracted birds were also attracting plenty of hunters. To top it off, those who found fields weren't finding the ducks they were used to by mid-October North Dakota standards.
On the other hand, hunters who set floaters, donned waders and hit the water were finding a multi-species smorgasbord. Canvasbacks, ring-necked ducks, green-winged teal, gadwalls and, yes, even mallards made up more than one versatile hunter's bag when most field hunters were still filling up their gas tanks for another scouting run.
The opposite can also be true. A couple years ago, I hunted with friends for divers and puddle ducks. We were going to hunt the bays around our hunting shack, but along the way passed a cornfield that easily held a few thousand geese, both dark and light. The local guy we were with mentioned how they'd been hitting that same field for more than a week. I casually suggested we set up there at least one morning to take advantage of the routine.
I was overruled. We shot a few birds on Day 1, but had much slower action than anticipated. The second day was even worse. By Day 3, the geese that had been using that field moved on and we missed our window. I never uttered an "I told you so," but the looks on my buddies' faces said it all.
The point is, never get backed into a corner, especially on a destination trip. If elements are stacked against a hunting plan, be prepared to try something different to make the hunt successful.