Delta News
Western Drought Could Hamper Waterfowl Hunting
Posted on 11/13/2014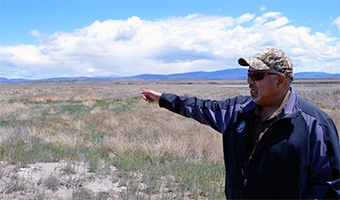 Another year of extreme drought has waterfowl managers concerned and hunters frustrated from southern Oregon's Klamath Basin to the Central Valley of California and even into Nevada. A lack of water has decreased wet marshland acres into hunting season, and will leave more refuges, wetlands and rice fields dry through January if timely precipitation doesn't arrive.
"Our water situation in California is tight," said Mark Hennelly, California Waterfowl Association vice president of legislative affairs and public policy. "Public areas are facing lower water levels, and ultimately, lower hunter quotas."
Water allocations varied across The Golden State during the waterfowl hunting season opener in October. In northern California, entities received 75 percent of allocation, whereas southern areas received 65 percent or less. Governing water boards have issued curtailments, as well. Even though canals might be full, until regulations are relaxed, water can't legally be drawn from them.
"There was water for private clubs and refuges early in the season, but the concern is whether it can be stretched into January," Hennelly said. "Although some clubs have wells, they're very expensive and most folks can't afford to run those all year. Having a pump is not a silver bullet or a long-term solution."
Rice acreage, critical for waterfowl hunters and wintering ducks, has been dramatically reduced this season. Rice farmers in the Sacramento Valley usually flood about 300,000 acres, but this year, water shortages mean farmers planted 20 percent fewer acres and intend to flood only about 50,000 acres.
Without rain, there won't be enough water to keep marshes wet through the end of the Pacific Flyway's 107-day duck season. Hunting opportunities could be limited, and duck production next spring could suffer. Forcing birds into closer quarters increases the chance of disease outbreaks such as avian cholera, which has killed tens of thousands of ducks and geese in recent years.
Survey results this spring by the California Department of Fish and Wildlife indicated a 20 percent decrease in breeding mallards to 238,000, a result of several dry years, decreased habitat and poor duck production. The total number of breeding ducks also was 23 percent below long-term average.
The drought is drying up traditional stopover locations in Nevada, too, which could mean an abbreviated flight or even being bypassed by migrating ducks. In October, the Nevada Waterfowl Association released results from aerial surveys, which showed water levels at 30 percent of normal or less at several popular waterfowl stops. Others were completely dry, including Humboldt Wildlife Management Area. Local waterfowl populations were down significantly in Nevada, from several hundred thousand to 50,000.
If there's a silver lining, plenty of migrators will be winging south because of favorable breeding conditions and high duck production this spring and summer in Canada and on the U.S. prairies.
"It's no secret that Oregon, California and Nevada are all in rough shape," Hennelly said. "But the good thing is that northern breeding areas were wet and in good conditions. If we can get some rain at the right time on the wintering grounds, hunters and ducks will be in a lot better shape."