Delta News
Winter Issue Highlights Duck Hunters Tomorrow
Posted on 11/13/2014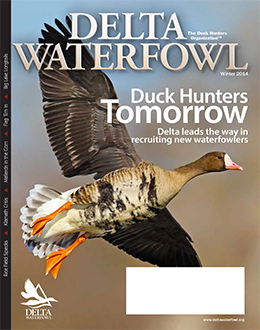 Good news! The Winter Issue of Delta Waterfowl magazine will be arriving in member mailboxes any day now.
In this issue, the focus is on Delta Waterfowl's efforts to ensure the duck hunting tradition continues long into the future. We'll take you to Canada's Prince Edward Island, where our Summerside PEI Chapter provides a perfect example of how to recruit new duck hunters through the organization's First Hunt program.
If you appreciate white-fronted geese, a.k.a. specklebellies, you're in for a treat. Delta photographer Fred Greenslade shares stunning pictures from a Louisiana specklebelly hunt, while contributing writer Brad Fenson shares tactics to hunt these spectacular geese.
Other features include a look at hunting longtails on Lake Michigan, setting up for mallards in the corn and an in-depth piece on how to flag for geese. The magazine also contains an important article about the Klamath Basin water crisis, as well as all of the entertaining and informative columns you've come to expect from Delta Waterfowl.
Enjoy the magazine, and good hunting!