Delta News
Delta Director to Host Waterfowl Hunting Seminars
Posted on 12/08/2014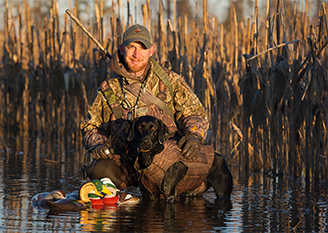 RALEIGH, N.C. — Chris Williams, a senior regional events director for Delta Waterfowl, will host a pair of free introduction to waterfowl hunting seminars Dec. 9 and Dec. 11 at the Centennial Campus Center for Wildlife Education in Raleigh.
The seminars, offered by the North Carolina Wildlife Resources Commission, are designed for both new and experienced hunters. Williams will cover waterfowl identification and biology, hunting methods, decoys and calling, firearms and ammunition selection, specialty clothing, watercraft and water safety, as well as how to clean and cook birds.
"I am honored to continually work with Delta's conservation partners such as the NCWRC, which is taking great strides to ensure hunting continues to be alive and well," Williams said. "These seminars are a great opportunity for people to learn a lot about waterfowl and hunting."
Williams, 33, has been hunting ducks and geese in the region for nearly two decades, and takes great pride in helping new hunters get started in the tradition.
The free seminars are scheduled for 6:30 to 8:30 p.m. on Dec. 9 and Dec. 11. Online preregistration is required. Click here to register. http://www.ncwildlife.org/Learning/SkillsBasedSeminars.aspx
The Centennial Campus Center for Wildlife Education is located on the first floor of the Wildlife Commission's headquarters at 1751 Varsity Drive on N.C. State University's Centennial Campus in Raleigh.
For more information on the waterfowl hunting seminars, contact Wildlife Education Specialist Casey Williams at 919-707-0202 or casey.williams@ncwildlife.org.