Delta News
On a Mottled Duck Mission
Paul Wait, Magazine Editor on 12/16/2014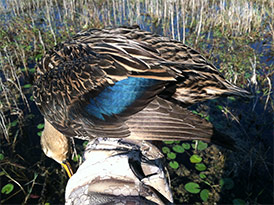 So just what does it take to shoot a mottled duck in South Florida?
Answer: A little detective work.
Along with my host, Derek Bendell, I'd been sitting comfortably in the boat of John Van Houten for about two hours watching a decoy spread on Lake Okeechobee, when our captain made a keen observation.
"We might kill more teal if we sit here, but if you're going to get a mottled duck, you're going to have to go about 200 yards that way," declared Van Houten, who hunts ducks on the big lake when he's off duty as a Palm Beach County cold case detective.
I nodded. We had seen pairs and fours of mottled ducks flying to and fro, seemingly following a predetermined flight path over an expanse of low, grassy cover. Calling to them proved futile, and our decoys might as well have been orange Coast Guard buoys.
"You want to go over there?" Van Houten queried.
I did, but I wasn't quite sure how we'd hide a 17-foot boat in pencil-thin cover that only stuck out of the water a foot or so.
Still, I really wanted to shoot a mottled duck.
Before I had time to ask about the plan, Van Houten had dropped the sides on the boat blind, fired up the motor and was powering toward the beehive of mottled duck activity.
A minute later, he cut power.
"Fill your pockets with shells," he instructed. "Take three of these palms to hide yourself. And here's a bucket. Flip it over and sit on it."
With that, I gingerly plopped off the front deck into the knee-deep water. I collected the pail and green palm fronds, shifting the shotgun sling on my shoulder to free my hands to carry the cumbersome load.
"We'll be back in an hour," Van Houten called out. "Good luck!"
As the sound of the mud motor waned, I wondered aloud, "What the heck have I gotten myself into?"
And then a pair of mottled ducks whisked past, no more than 25 yards away and 20 yards high. They never even flared.
I quickly sank my pail, pushed the palms into the mud to hide my face and loaded my shotgun. One more thing: I took a cursory look around for lurking alligators and slithering snakes.
The duck flight hit a mid-morning lull, and again, I questioned the wisdom of sitting in the water all alone with critters that could easily kill me.
"But I have a gun," I reasoned.
Thankfully, no one heard me.
Soon, while I scanned for ducks — and snakes and gators — four mottled ducks loomed on the horizon. I tracked their path as they drew near, all but certain they'd pass within range.
I waited until the dark ducks were within 20 yards to stand and swing. It was an easy shot. My first mottled duck splashed nearby for a short, simple retrieve, but it was a fetch I made one tentative step at time.
Thrilled, I set my trophy atop the bucket and took out my phone for a picture.
As I framed up the scene, I was happy to hear the droning of a mud motor in the distance.