Delta News
Waterfowl Hunting Seminars a Resounding Success
Posted on 12/16/2014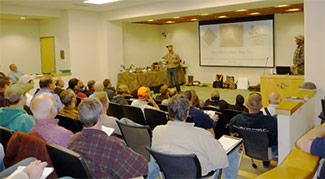 Delta Waterfowl senior regional director Chris Williams had hoped to spur excitement during waterfowl hunting seminars held Dec. 9 and Dec. 11 in Raleigh, N.C. But after capacity nights and overwhelmingly positive responses, the program blew away his expectations.
Offered by the North Carolina Wildlife Resources Commission, the seminars were designed for both new and experienced hunters and covered a gamut of topics on ducks, hunting and conservation.
"We went through a day in the life of a duck hunter," Williams said. "It all went very well. We had quite a few great questions from the participants."
Alongside Williams was Delta Waterfowl research technician Garrett Trentham, who talked about his work aiding a Delta predator management study in North America's Prairie Pothole Region this summer.
A seasoned waterfowler of the region, Williams said he framed the seminar as a basic introduction to waterfowl and duck hunting. But feedback after the first night prompted tweaking for the second seminar.
"I wanted to generate enthusiasm, to get people engaged so they wanted to go out and do it," said Williams, 33. "My thought was that there will be folks in there that are truly new. A lot of folks indicated in exit surveys that they were interested in more in-depth hunting content."
The second night's seminar covered similar topics, but went into greater detail about decoys, calling and preparing waterfowl for the table. All totaled, 180 men, women and children participated during the inaugural events. The seminars were free, but limited to the first 90 folks who pre-registered for each night. The available seats filled quickly.
Deet James, NCWRC hunting heritage biologist, is encouraged by response. Waterfowl hunting participation has dropped precipitously in recent years, and recruitment and retention research has shown that social relationships are critical to getting people involved in the outdoors. With so much interest in the seminar, there's definitely room to grow.
"Only 2 percent of hunters indicate they got into hunting on their own, so it takes hunters to make hunters," James explained. "If we have conservation partner facilitation, people can connect with these organizations and create social networks for new hunters with little or no experience. It's a win-win."
Creating a statewide seminar workshop in partnership with Delta Waterfowl could facilitate such social networks and, in turn, create more duck hunters. Such a program aligns perfectly with the mission of The Duck Hunters Organization.
"We're all about making ducks and duck hunters, that's our game. If we can make a difference, if only two people walk out and get something from it, we did our job," Williams said. "It was the first waterfowl seminar offered in the state, and I'm honored for them to ask me to be a part of it."
A possible state-level seminar program, or one that includes advanced courses on hunting-specific topics, would likely mean involving Delta chapters at a community level. With support from NCWRC and Delta Waterfowl, volunteers have the resources to keep the waterfowling tradition alive in North Carolina.
"We're so glad that Delta Waterfowl partnered with us in this effort because it's really popular and we're bringing awareness to duck hunter recruitment and retention," James said.