Delta News
Delta Waterfowl Hires Two Regional Directors
Posted on 01/27/2015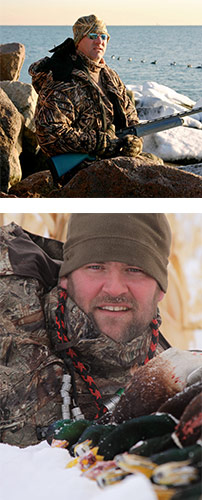 BISMARCK, N.D. — Delta Waterfowl has hired two regional events directors to continue the growth of the organization's chapter system.
Derron Wahlen, 48, joins Delta as regional director of Minnesota and Wisconsin to take on a newly created position. The South Dakota native currently lives in Minnetonka, Minn., with his wife and two kids.
Wahlen is a life-long waterfowl hunter and outdoorsman with more than a decade of event fundraising, chapter coordination and conservation organization experience.
"I'm excited to be working with the Duck Hunters Organization," he said. "I like that Delta Waterfowl is extremely focused on conservation programs."
Wahlen can be reached at (612) 801-0296 or dwahlen@deltawaterfowl.org.
Scott Terning, 38, who most recently served as an events coordinator for Delta Waterfowl, will return to his roots as regional director.
He will cover North Dakota, South Dakota and western outlying states. Terning is replacing Bryce Seefeldt, who was promoted to corporate partnership director earlier this year.
Terning has been at Delta Waterfowl for 10 years, and spent nine years as a regional director before moving to events coordinator in 2014.
"Throughout my employment with Delta, I've seen the difference that grassroots volunteers can make for local communities, ducks and duck hunters. I am aware of the passion each local volunteer brings, and I want to be a part of these amazing efforts," he said.
Terning can be reached at (701) 426-4627 or sterning@deltawaterfowl.org.
Delta Waterfowl Foundation is The Duck Hunters Organization, a leading conservation group dedicated to ducks and duck hunters in North America. Visit deltawaterfowl.org.