Delta News
Seefeldt Becomes Delta Waterfowl Corporate Partnership Director
Posted on 01/27/2015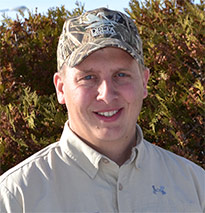 BISMARCK, N.D. — Delta Waterfowl has named Bryce Seefeldt as the organization's corporate partnership director.
Seefeldt, 37, will work with valued outdoor industry partners to strengthen and maintain mutually beneficial relationships while promoting Delta Waterfowl's mission and programs as The Duck Hunters Organization.
"Delta Waterfowl's corporate partners share our strong commitment to the future of duck hunting," he said. "I look forward to working together as we introduce the next generation of duck hunters to our rich heritage."
Seefeldt joined Delta in 2012 as an events coordinator before spending a year as a regional director.
The native of southeast North Dakota is a lifelong outdoorsman. He lives in Mandan, N.D., with his wife and two children.
Seefeldt can be reached at (701) 220-2542 or bseefeldt@deltawaterfowl.org.
Delta Waterfowl Foundation is The Duck Hunters Organization, a leading conservation group dedicated to ducks and duck hunters in North America. Visit deltawaterfowl.org.