Delta News
The Golden Bill Awards
Paul Wait on 01/28/2015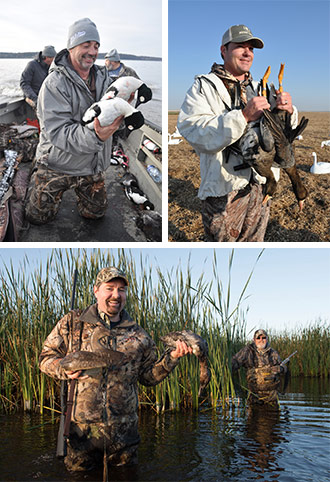 The decoys are shelved, your waders hung to dry for a final time. Duck season is over. Hopefully, gaggles of geese, backpedaling puddle ducks and buzzing divers characterized your waterfowling this year.
From my first outing during Wisconsin's September teal season to my final outing in sunny Florida a couple weeks ago, I enjoyed many fabulous moments in pursuit of ducks and geese. So, in the spirit of recognizing the best of my duck season, I present to you the Golden Bill Awards for 2014.
Best Supporting Decoy — Hen Canvasback, Duncan Ducharme. A trio of canvasbacks zoomed overhead on an early October morning at the Delta Marsh in Manitoba, and then quickly hooked back perfectly into a spread of vintage blocks anchored by a Ducharme canvasback. Pat Gregory, a decoy maker from Illinois who owned the snaky-necked block, called the shot. We each dropped a regal can, with mine coming to rest next to the historic Delta Marsh decoy.
Best Take 'Em Moment — Hooray Ranch, Kansas. I'm sure Randy Hill of Hard Core Decoys yelled "Take 'Em!" but with a mixed swarm of a thousand-plus snow geese, specklebellies and Canada geese trying to land on our heads, I never heard it. Just like a road-team quarterback in a hostile football stadium filled with screaming fans, I went on a silent count. Hill, who was right next to me, stood to fire, signaling my go. Many spent shells later, four retrievers were lunging through the shallows at flopping geese that fell to 11 guns in two shore blinds. Pure, incredible waterfowling hunting chaos.
Golden Horseshoe Award — Charlie Holder, Saskatchewan. The owner of Sure-Shot Game Calls pulled off the luckiest shots of the season during a field hunt last September in Saskatchewan. His feat? Taking not one, but a pair of banded specklebellies from the same flock. The geese decoyed beautifully for Holder, and he was the only hunter in position to shoot, so there's no question he dropped both banded geese.
Best Retrieve — Bill Willroth, South Dakota. You'd think this award would go to a Lab or a Chessie. Not so. Willroth, the owner of Dakota Decoy, piloted his boat brilliantly across a windswept bay to find a very lively Canada goose that had sailed far from the blind. The honker pulled a Houdini, but the persistent hunter waited out the diving goose as his craft bobbed on the backwater waves. It was an improbable conclusion, but in the end, a quick follow-up shot wrapped the drawn-out scene.
Best Production, Breakfast Category — Ricky Hart, South Dakota. The Lucky Duck Decoy man can cook. During a three-day trip in South Dakota, we were treated to eggs, bacon and hash browns one morning, with ham-and-egg biscuits the next. When someone asked what Hart had on the menu for our last day, he replied, "It's a surprise." I jokingly said, "I like blueberry pancakes." The next morning, Hart whipped up my request on the portable cook stove in our floating blind. Hot blueberry pancakes, with a side of sausage and backpedaling greenheads. Yummy!
Mr. Whistler Award — Jim Crowley, Illinois. A scant handful of duck hunters love the game of layout boat hunting, and even fewer among them profess to get their greatest thrill from hunting goldeneyes. Crowley, the host of Hook n' Hunt TV, beamed the brightest when flock after flock of 'eyes ran the string this season on the Mississippi River. Here's to you, Jimmy Whistler.
Hunt of the Year — Canvasbacks on the Delta Marsh. It's truly difficult to pick one hunt from a spectacular season, but killing a canvasback on the historic Delta Marsh has been a life-long quest. I hunted the marsh in 2001 and again in 2012, but did not shoot a canvasback on either trip. So to take a drake canvasback — especially over a hand-carved rig featuring a vintage Ducharme decoy crafted specifically for hunting on Delta Marsh — was my season's brightest moment.