Delta News
Blevins Loved to Introduce Kids to Hunting
Posted on 01/29/2015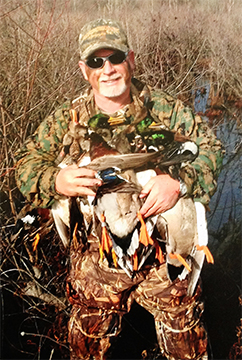 Dennis Blevins, of Longview, Texas, a family man and an ambassador to hundreds of young people interested in learning about ducks and duck hunting, died Jan. 26. He was 57 years old.
An independent oil and gas industry consultant by trade, Blevins valued duck hunting highly, although not selfishly so. Much of the joy he found in hunting came from mentoring young people and sharing in their enjoyment of the outdoors.
"The duck hunting community has lost a great advocate," said Jason Tharpe, chief operating officer of Delta Waterfowl. "Dennis worked tirelessly for Delta in East Texas, always trying to ensure the tradition of duck hunting will live on."
Blevins was instrumental in creating a Delta Waterfowl Youth Day in the early 2000s in East Texas, an introduction and celebration of young hunters that he has helped carry on annually.
Chris Smith, a columnist for the Longview News-Journal, was inspired by Blevins' enthusiasm so much that he brought his own kids to the Delta event.
"Blevins wanted to get the word out about (Delta Waterfowl)," Smith wrote. "By all standards he achieved the goal exponentially. Blevins was always there on the stage and behind the scenes, planning, delegating and delivering. Delta's Youth Day event is unlike any other. Blevins was instrumental in putting this event together. Kids were put front and center of the entire focus."
Blevins served on Delta Waterfowl's Board of Directors for the past nine years.
"We all miss him," said Larry Kaumeyer, chairman of the board for Delta Waterfowl. "Dennis was always the board member who asked the right questions."
The Board of Directors will make a donation to a fund set up in Blevins' name to benefit youth hunting in Texas.
"We're all thinking about his family and we'll never forget his tremendous support to the Board and to Delta," Kaumeyer said.
Blevins is survived by wife, Rae Blevins; a son, daughter-in-law and granddaughter, Kyle, Katie and Annie Blevins; and a daughter, Leslie Blevins. A memorial service was held Jan. 29 in Longview.
The family has requested that memorial donations can be made to Delta Waterfowl, 3000 Dumas Road, Longview, TX 75604. Donations will be used for lifetime licenses awarded to local youth.