Delta News
Arch Chapter Honors Memory of Youth Outdoorsman
Posted on 02/23/2015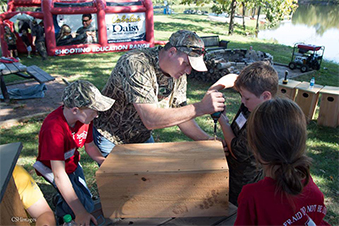 The St. Louis Arch Chapter in Missouri held its annual Aaron Hurst Memorial Youth Waterfowl Education Day in September. The day was designed to educate young people about Aaron Hurst's passion of waterfowl hunting.
Through Delta's First Hunt program, the free event grew from 25 attendees its first year, to 68 boys and girls in 2014. Held at the Edwardsville Gun Club in Edwardsville, Ill., activities incorporated all aspects of waterfowl hunting from safety, regulations and firearms handling, to clay target shooting over decoys and assembling a wood duck nesting box.
The event was funded through Waterfowl Heritage Fund proceeds raised during the chapter's annual Duckapalooza Banquet, as well as by numerous dedicated sponsors.