Delta News
Success Doubles at Second Annual Michiana Chapter Youth Day
Posted on 02/23/2015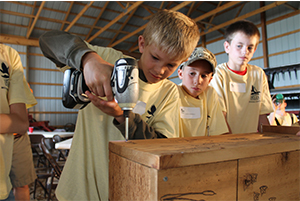 Tim Torrance was pretty proud when his Michiana Chapter's inaugural youth day drew 21 kids in 2013. Imagine his reaction when more than 40 young people turned out in September for a day of waterfowl education and fun in Middlebury, Ind.
"We were overwhelmed," said Torrance, chapter president.
Kids were split into three groups that rotated stations to build wood duck boxes, learn about predator management and practice a mock hunt on the water with decoys, dogs and layout blinds. Afterward, a question-and-answer session bolstered the enthusiasm of the budding waterfowlers, while hungry stomachs were satisfied by samplings of favorite duck and goose dishes.
"Three of the participants later went on First Hunts and bagged birds during the waterfowl season," Torrance added. "And we already have parents lining up for next year."