Delta News
Texas Chapter Hosts Youth Through Hunt of a Lifetime
Posted on 02/23/2015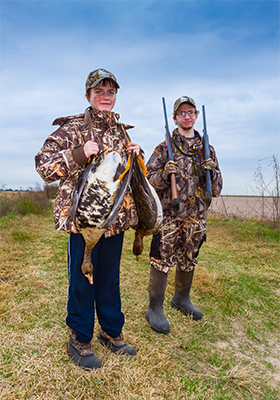 It was a long way to Texas from their Pennsylvania homes, but cousins Alex Kaday, 17, and Kadyn Grow, 12, experienced their First Hunt thanks to the San Antonio Chapter and Hunt of a Lifetime.
Chairman Dave Bavero reached out to Hunt of a Lifetime two years ago, offering to host critically ill children on a waterfowl hunt. Kaday of Erie, Pa., and Grow of Corry, Pa., wanted to see ducks or geese cupping in Texas.
The hunt took place in December at WGO Outfitters in Brookshire, Texas, courtesy of proprietor Tim Crawley. Bavero and other San Antonio volunteers helped with the hunt, as well as Hunt of a Lifetime's Mike Howard of Boardman, Ohio, who chaperoned the new waterfowlers. Neither had hunted before, which made connecting on fleet-winged targets a challenge. However, Kaday and Grow both managed to down beautifully barred white-fronted geese.
"They had a good time, and we lined up a taxidermist to get the birds mounted," Bavero said. "Kadyn called me the other day and asked, 'Hey, do you know when we're going to get those back?'"