Delta News
Veterans Hunt Greenheads in South Dakota
Posted on 02/23/2015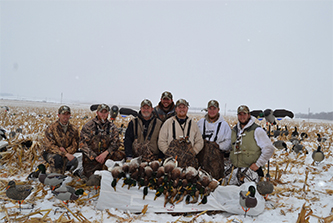 Several U.S. military veterans experienced a memorable November field hunt with members of the Southeast Dakota Puddlers Chapter of Sioux Falls, S.D., and the Hunters Helping Heroes organization.
Chapter member Clint Hay spearheaded the hunt by making scouting runs and letting the group use his decoy spread. Hay himself is a decorated veteran who was deployed twice overseas.
Hidden in layout blinds in a snow-covered cut cornfield, veterans Anthony Bongard and Caleb Cohrs hunted alongside Kurt Woodrich, Max Woodrich, Chris Greene, Kiefer TeGrootenhuis and Hays. They soon found themselves covered in greenheads. Each veteran left with a Delta hat, bag, duck call and memories from a hunt they won't soon forget.