Delta News
Spring Magazine Issue Features Delta's Work on Canvasbacks
Posted on 03/09/2015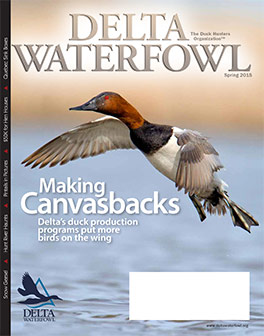 Delta Waterfowl produces ducks for duck hunters. Last summer, a team of eight researchers working began a study of how predator management could help canvasbacks and other over-water nesting ducks hatch more eggs. The Spring Issue profiles Delta's innovative work aimed at putting more canvasbacks on the wing.
Spring snow goose hunting is upon us, so of course, we also feature a strong dose of white geese hunting tips in this issue. Contributing writer Brad Fenson explores a relatively untapped opportunity for spring geese, while expert wild game cook Hank Shaw helps you turn the meat into great food in our Camp Chef column.
We take you to Saskatchewan for a pea field hunt, and then out to small waters in California for a run-in with mallards and pintails. Speaking of sprig, you won't be able to pry your eyes away from the stunning photo essay on pintails.
As always, the first magazine of 2015 carries a full slate of informative and entertaining columns such as Retrievers, Strategies, Shotgunning and Traditions to help you get the most from your waterfowl hunting.
The only way to get Delta Waterfowl magazine is to join The Duck Hunters Organization. If you are a member, thank you for your support. The Spring Issue will arrive soon. Enjoy!