Delta News
Move-In Ready for Mallards
Kyle Wintersteen, Managing Editor on 03/18/2015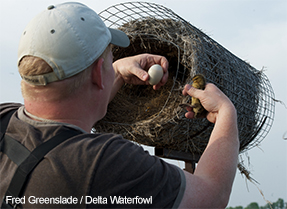 Mallards returning to the Prairie Pothole Region this spring will find 618 new Hen House nesting structures installed by Delta Waterfowl.
"Our research tells us that the additional Hen Houses will add about 1,300 ducks to the fall flight this year and for years to come," said Matt Chouinard, waterfowl programs manager. "Hen Houses are the most effective, financially smart tool we have to make more mallards."
Installed in Manitoba, Alberta, Saskatchewan and North Dakota, the new nesting structures expand upon the 7,000 structures already maintained by Delta Waterfowl's Hen House Program. Currently, the program adds more than 15,000 ducks annually to the fall flight, with a long-term goal of adding 250,000 ducks annually.
Research has shown that each Hen House adds an average of 2.1 extra ducks to the fall flight every year — ducks that would not have been raised and lived to fly south without the help of a Delta Waterfowl nesting structure.
Used primarily by mallards, the Hen Houses are nesting cylinders placed over small wetlands. Delta focuses installation efforts on prairie wetlands with limited nesting cover — areas where predators such as red foxes, raccoons and skunks can reduce nest success to less than 5 percent. In contrast, Delta research indicates nest success of up to 80 percent for ducks using Hen Houses. In one western Manitoba program area, Delta found that mallards using Hen Houses are 12 times more likely to hatch a nest than hens nesting on the ground.
This year, Delta has begun monitoring the Hen House Program using SPOT Satellite GPS technology. Installers provide Chouinard with real-time data, including GPS coordinates, whenever a nesting structure is put in place or maintained. Chouinard can track nest usage rates.
"In the past hour alone, I was alerted to five maintained Hen Houses and all but one was used last spring," said Chouinard on a recent day when technicians worked hundreds of miles from his office. "It's a highly efficient system to collect data on how our Hen Houses are performing."