Delta News
Nebraska Chapter Receives Donation from Cabela's
Posted on 03/23/2015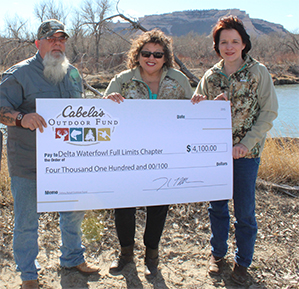 The Full Limits Chapter of Mitchell, Neb., received a $4,100 grant from Cabela's Outdoor Fund and the Cabela's retail outlet in Sidney.
According to Full Limits co-chair Chris Kniss, the donation will fund the chapter's first Youth Day — an event to teach aspiring youngsters about dog handling, duck calling, decoy setups, shooting etiquette and hunting.
The Nebraska chapter grant was announced in February, just weeks after Cabela's Outdoor Fund provided a $50,000 grant to Delta Waterfowl's Hen House Program.