Delta News
Packerland Chapter Builds 146 Wood Duck Boxes
Posted on 03/27/2015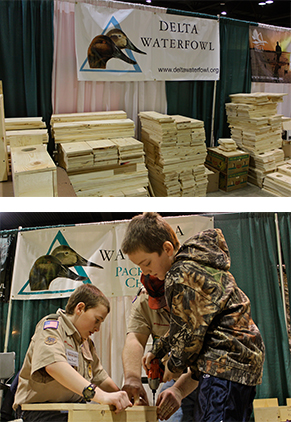 Assisted by local Boy Scouts, the Packerland Chapter of Delta Waterfowl built a whopping 146 wood duck boxes during the Wisconsin State Hunting Expo held February 27 to March 1 in Green Bay.
"It was a very long, but rewarding weekend," said Eric Johnson, chapter chairman. "The kids were real troopers, no pun intended."
The expo was co-organized by Safari Club International, which also co-sponsored the Packerland Chapter's efforts. According to Johnson, their work inspired nine youths and five adults to join Delta Waterfowl.
Additionally, two conservation groups invited the chapter to built wood duck boxes and Delta Hen Houses at their youth events this summer.