Delta News
Mourning Doves Featured on 2015 Canadian Conservation Stamp
Posted on 04/02/2015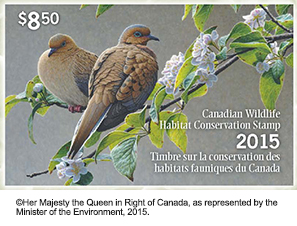 A pair of mourning doves will grace the 2015 Canadian Wildlife Habitat Conservation Stamp and Print. The winning painting, "Blossoming – Mourning Doves," was created by artist W. Allan Hancock of Salt Spring Island, British Columbia.
Available for $8.50 beginning April 11, the stamps are primarily purchased by waterfowl hunters to validate their migratory game bird hunting permits. Since 1985, stamp sales have generated more than $50 million for Wildlife Habitat Canada's conservation projects — including support of Delta Waterfowl's Alternative Land Use Services in Alberta.
Hancock's entry bested a field of 32 Canadian wildlife artists at Wildlife Habitat Canada's annual art competition. His work was previously featured on the 2005 (harlequins) and 2011 (American wigeon) stamps. Next year's stamp will highlight the surf scoter.