Delta News
Wyoming Teen Wins Junior Duck Stamp Competition
Posted on 04/21/2015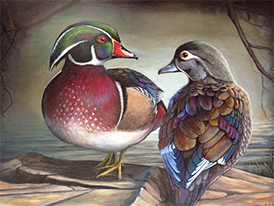 Andrew Kneeland of Rock Springs, Wyo., has won the national Junior Duck Stamp Art Contest.
The 17-year-old painted a pair of wood ducks using acrylic paints, and his art will be depicted on the 2015-2016 Federal Junior Duck Stamp.
Kneeland's entry was judged as the winner among best-of-show entries from all 50 states, the District of Columbia, Puerto Rico and the U.S, Virgin Islands. More than 24,000 entries were submitted in the state contests.
"I congratulate our winning artist and all the talented young people who participate in the Junior Duck Stamp Conservation and Design Program each year," said Dan Ashe, director of the U.S. Fish and Wildlife Service. "After 22 years, the Junior Duck Stamp Program remains one of the Service's hallmark efforts to connect youth with nature and inspire budding wildlife artists."
First day of sale is June 26. Proceeds from the sale of the $5 Junior Duck Stamp support environmental education.
The Federal Junior Duck Stamp Art Contest is the culmination of a year-long Junior Duck Stamp conservation program used by educators across the nation. The program's Educators Guide and Youth Guide provide 10 lesson plans, with exercises and activities focusing on conservation science, our changing natural world, and fun. Supplemental guides focus on homeschools and informal education settings such as nature centers, national wildlife refuges, and after-school programs. Curriculum guides are available at www.fws.gov/juniorduck.