Delta News
Webster Helped Delta Waterfowl Connect With Duck Hunters
Posted on 04/23/2015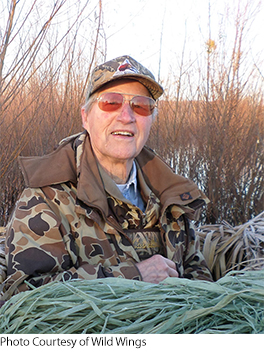 William B. Webster III, an influential former president of Delta Waterfowl's Board of Directors, died on April 12. He was 89.
Webster, of Frontenac, Minn., was an avid waterfowl hunter who joined Delta's Board in 1983. He served until 2001, and was president from 1995 to 1999.
Webster led the Board during an era when the organization added membership events and raised its public profile, according to John Devney, vice president of U.S. policy, who joined Delta's staff in 1998.
"Bill had a tremendous impact on the direction of Delta Waterfowl during his tenure as chairman," Devney said. "He helped Delta orient from being an inward private research organization to an organization that connects with duck hunters about the work organization does. The impact of Delta's programs and an increased awareness of amongst duck hunters of Delta's work are both a legacy of Bill's influence."
Webster worked as a manufacturer's representative for Master Lock for 25 years, but might be best known as the founder and chief executive officer of Wild Wings, Inc. Webster turned a passion for wildlife art into a thriving business, popularizing photorealistic prints from world-class waterfowl painters such as Bill Maass and the Hautman brothers.
Webster is survived by seven children and 10 grandchildren. His wife, Betty, preceded him in death.
"Bill Webster was a gentleman of the highest order," Devney said. "He was a dear friend and will be greatly missed."