Delta News
Delta Waterfowl's Predator Management Program Adds Ducks to the Fall Flight
Posted on 04/29/2015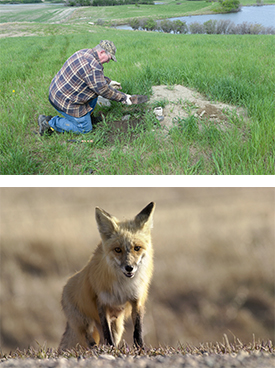 BISMARCK, N.D. — Delta Waterfowl's professional trappers once again are hard at work this spring to remove predators from the landscape to boost duck production.
Predator Management gives nesting ducks a better chance to hatch ducklings in areas where egg-eating predators are abundant. Five Predator Management blocks in North Dakota were strategically selected for this spring's effort, which past research shows will triple nest success and add ducks to the fall flight.
"We're expanding on Delta's mission to significantly increase duck production through Predator Management," said Joel Brice, Delta Waterfowl's vice president of waterfowl and hunter recruitment programs. "We estimate that the Prairie Pothole Region has an additional 180 sites ideal for trapping — areas with a lot of wetlands and little nesting cover."
Based on two decades of research to fine-tune the efficiency of Predator Management, Delta trappers target intensively farmed areas with limited nesting cover. Nesting hens and their eggs in such habitat are especially susceptible to red foxes, skunks, raccoons and mink.
Last spring, results from a grassland-only trapping approach — only trapping nesting cover areas — showed that Predator Management improves nest success rates as much as trapping both the perimeter and nesting cover areas of entire township-sized block. Many habitat blocks on the prairie have a low amount of grassland cover — some only 10 percent, which concentrates duck nests and predators, too. Focusing predator removal only on grassland areas allows trappers to cover more areas and help more nesting ducks successfully hatch a brood.
"With every new question we ask and answer, we ensure we're being as efficient as possible with the predator management tool as well as duck hunter dollars," said Frank Rohwer, Delta Waterfowl president. "Landscapes and predator communities are changing all of the time, so we're constantly monitoring hatch rates and retooling as necessary to produce as many ducks as possible."
Predator Management research continues in Canada, with three sites in Manitoba focused on trapping to boost success for overwater nesting ducks such as canvasbacks and redheads, as well as a new grass-nesting study site in the Alberta Parklands.
"It's our responsibility to raise ducks for our members as cost-efficiently as possible," Brice said. "Predator Management has emerged as a tool that does just that."
For more information, contact Joel Brice at (888) 987-3695 ext. 225 or jbrice@deltawaterfowl.org.
Delta Waterfowl Foundation is The Duck Hunters Organization, a leading conservation group working to produce ducks and ensure the tradition of duck hunting in North America. Visit deltawaterfowl.org.