Delta News
North Carolina House Passes Outdoor Heritage Act
Posted on 04/30/2015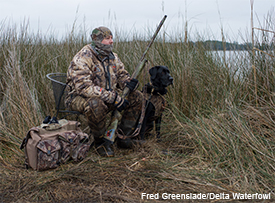 The North Carolina House of Representatives has passed a bill that would repeal a prohibition on most types of Sunday hunting in the Tar Heel State.
House Bill 640, titled the Outdoor Heritage Act, passed on 83-to-35 vote late Tuesday night. The bill excludes waterfowl hunting.
Chris Williams, a North Carolina resident and senior regional director for Delta Waterfowl, acknowledged the work of bill's 26 sponsors, including Rep. Jimmy Dixon, Rep. John Bell, Rep. Marvin Lucas, and Rep. Tim Moore, the Speaker of the House.
"We appreciate the grassroots effort from the outdoorsmen and women of North Carolina to support this measure," Williams said. "It's a great first step. We certainly want to accommodate all outdoor interest groups in the state, including waterfowl hunters."
In addition to allowing hunting all seven days of the week, the Outdoor Heritage Act creates a trust fund to promote youth hunting and establishes the Outdoor Heritage Advisory Council. The bill will go to the North Carolina Senate for consideration.
"We're going to continue to work on behalf of North Carolina waterfowlers to enhance hunting opportunities," Williams said.