Delta News
Spring Wetlands Update: Heavy Rains Soak Dakotas and Prairie Canada
Kyle Wintersteen, Managing Editor on 05/19/2015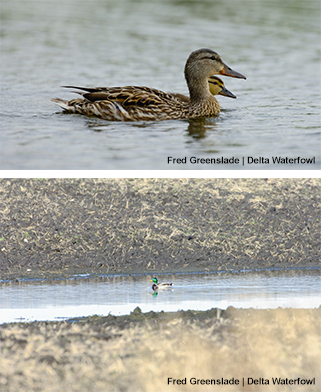 Late last week, fears of mediocre to poor duck production loomed over the Dakotas, where ongoing warmth and a lack of precipitation were rapidly eroding wetlands.
"A lot of the important temporary and seasonal wetlands were drying up," said Mike Buxton, waterfowl program coordinator for Delta Waterfowl. "I was fairly concerned, because they're critical to renesting efforts and offer good brood habitat as well."
But conditions can change quickly in the Prairie Pothole Region, and over the weekend, a major storm drenched the Dakotas and the Canadian prairie's southern edge. Some areas received 4 to 6 inches of water in the form of rain, snow and sleet.
"It was a pretty incredible amount of precipitation, and it occurred early enough to improve my expectations for duck production," Buxton said. "I just drove the same route through North Dakota that I did two weeks ago, and the difference is staggering."
Canada's prairie provinces were less affected by the precipitation, but they were also far less in need of it.
"Temperatures have been way below normal, so much of the Canadian prairie has retained the carryover wetlands accumulated through last year's heavy precipitation," said Jim Fisher, Delta Waterfowl's director of conservation policy in Canada. "I would describe wetland conditions as above average, but spring 2015 is a return to normalcy after the last few exceptionally wet years. Certainly it's a relief to our friends in agriculture, who haven't been able to aggressively seed their land this early since 2005."
Here's a closer look at current wetland conditions in key portions of the Prairie Pothole Region.
The Dakotas
Buxton reports significant numbers of newly formed temporary and seasonal wetlands across stretches of North Dakota that were bone dry last week.
"I'm pretty relieved," he said. "Temporaries and seasonals (ponds) are rich in invertebrates, which provide hens the necessary energy for renesting efforts. If we'd gone even another two or three weeks without significant rain, many ducks likely would not have renested. That would've dramatically reduced duck production, especially for early nesters such as northern pintails and mallards. As long as we receive an average amount of rain, I suspect renesting efforts should be adequate from here on out. Only time will tell."
Buxton says wetland conditions in the Dakotas went from well below average to slightly above in a span of just 48 hours.
"Conditions aren't as good as the last couple remarkably wet years, but we really lucked out," he explained.
Manitoba
Manitoba's temporary and seasonal wetlands are drier than in recent years, but to a lesser degree than the Dakotas. Cool temperatures have slowed evaporation, preserving many shallow, existing wetlands.
"Our students in the field are reporting good wetland conditions, but not exceptional ponds like last year when many wetlands flooded well beyond the outer edge of the cattails," Fisher said. "Manitoba's winter and spring precipitation totals were well below average, which caused the southwest corner to become fairly dry. However, that's exactly where the recent storm was most impactful, delivering up to 3 inches of precipitation in spots. I'm hopeful that the wetlands it replenished will improve renesting efforts and brood survival. My only concern is that the storm's intensity may have been sufficient to flood some early nests. Upland nests near wetlands and especially overwater nests such as those used by canvasbacks tend to be vulnerable to flooding."
Fortunately, Manitoba's ample permanent and semi-permanent wetlands lend the province greater duck production stability than other regions during periods of low precipitation. While less beneficial than seasonal wetlands, most basins are sufficiently full and should help foster production and brood survival.
Alberta
Wetland conditions in Alberta are among the best in the Prairie Pothole Region this spring. A combination of residual water and slightly above-average precipitation during winter and spring should equate to good duck production.
"Like most places, wetlands in Alberta are down a bit from last year, but conditions remain above average," Fisher said. "Various contacts are reporting good wetland conditions across the province, and I've personally observed them in the areas surrounding Red Deer in central Alberta, and Lloydminster in the east."
Saskatchewan
It's been an average year for precipitation in Saskatchewan, but little rain fell in late April and early May.
"Saskatchewan is kind of a mixed bag this spring," Fisher said. "When I was there three weeks ago, there were strong numbers of temporary wetlands. Reports now indicate they've begun to dry up in spots, but the wetlands should last through the critical early juncture when hens are in great need of the protein-rich invertebrates they provide."
Overall, Saskatchewan's wetlands remain in good shape after a super-wet 2014.
"They're returning to normal, but Saskatchewan's wetland conditions remain above average," Fisher said.