Delta News
Poison Played Role in Killing Thousands of Snow Geese in Idaho
Kyle Wintersteen, Managing Editor on 05/29/2015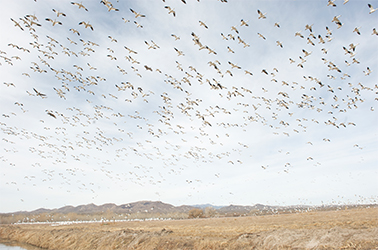 It was a bizarre, but not unheard of event in March when more than 2,000 snow geese died in Idaho en route to their northern nesting grounds.
"Basically, they just fell out of the sky," Gregg Losinski, conservation educator for the Idaho Department of Fish and Game, told Reuters following the incident. (http://news.yahoo.com/thousands-snow-geese-fall-dead-sky-idaho-031205255.html)
Given the immediacy of the birds' deaths, avian cholera seemed the likely culprit. Thus concerns were raised regarding transmission of the disease — one of the most contagious ailments affecting waterfowl — to other geese and also to the approximately 20 bald eagles seen feeding on the carcasses. Most of the dead geese were promptly incinerated to prevent spreading the disease.
However, a small number were sent to a state lab for testing, which revealed an unexpected, likely cause of death for at least a portion of the snow geese: poisoning due to zinc phosphide, a compound typically used to kill cropland rodents. (http://www.reuters.com/article/2015/05/16/us-usa-geese-idaho-idUSKBN0O100S20150516) Results for avian cholera were inconclusive.
"Avian cholera may have played a role in the die-off, but to what extent is unknown," Fish and Game spokesman Mike Demick said in a statement.
The lab's findings are being sent to the Idaho Department of Agriculture for further examination. Certainly a conclusion that the birds were poisoned rather than sickened by a cholera outbreak would be preferable. Regardless, the massive snow goose population will be unaffected by this comparatively small die-off.