Delta News
Delta Awards Shotgun to First Hunt Participant
Kyle Wintersteen, Managing Editor on 06/09/2015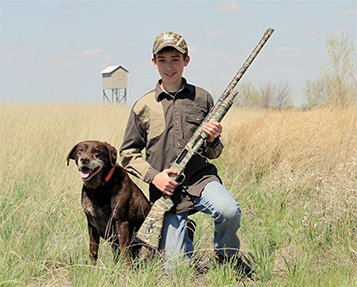 As first light glowed upon the decoys at a mentored First Hunt event last September, 13-year-old Garrett Petersen of Onida, South Dakota, surely hoped to return home with a duck or two. He never imagined he'd win a brand new shotgun.
However, following the hunt, an event sponsored by the Fowled Up Chapter of Pierre, South Dakota, Petersen completed a survey to help Delta Waterfowl fine-tune its First Hunt outings. To boost participation in the survey, Delta offered prizes to be awarded through a random drawing. Petersen was amazed to find that he'd won the grand prize: a 12-gauge, Duck Commander Series Mossberg 500 shotgun.
"Garrett was very excited when he received the shotgun," said Amy Petersen-Kolb, Garrett's mother. "Thank you, Delta Waterfowl!"
A second First Hunt participant who completed the survey received a Sitka Gear Duck Oven jacket, while a third lucky new hunter took home a dozen Hard Core Magnum Mallard decoys.
"Garrett is a super young man and we're very happy for him," said Scott Terning, regional director for Delta Waterfowl. "Congrats to all survey contest winners."
For more information on Delta Waterfowl's First Hunt program, click here.