Delta News
'Delta Conservation Corner' to Debut on The Grind Waterfowl TV
Posted on 06/17/2015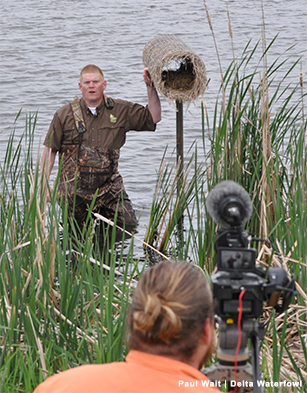 Delta Waterfowl's conservation work will again take flight on the hit outdoors show The Grind Waterfowl TV later this month.
Delta has renewed a marketing partnership with The Grind, a popular waterfowl hunting show that will air for its fourth season starting on June 29 on the Pursuit Channel in the United States and June 30 on Wild TV in Canada. Delta has been a show partner since 2013.
The "Delta Waterfowl Conservation Corner" segment will air on all 26 episodes, highlighting the organization's duck production programs, habitat conservation efforts, hunter recruitment and hunter advocacy work.
"We are pleased to partner with a high-quality television show that promotes the rich traditions of waterfowling while highlighting the importance of conservation to the future of duck hunting," said Alex Heiser, marketing director for Delta Waterfowl.
The show, which is principally supported by Dakota Decoy and Lucky Duck Premium Decoys, highlights the traditions of duck and goose hunting throughout North America.
"Our mission at The Grind is to not only show the waterfowl opportunities scattered across our great nations, but to provide our viewers with an inside look at the duck management and conservation work," said Bill Willroth, co-executive producer.
The show will air weekly at 12 p.m. Monday, 2:30 p.m. Thursday, and 8 p.m. Saturday (all Eastern Standard Time) on Pursuit Channel. It airs at 6 p.m. Tuesday, 1 p.m. Thursday, and 7 a.m. Saturday on Wild TV.
For more information, visit www.thegrindwaterfowl.com.