Delta News
Beyond the Record-High Duck Numbers
Posted on 07/07/2015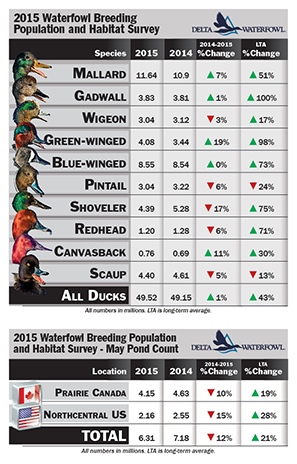 The 2015 Waterfowl Breeding Population and Habitat Survey revealed last week that the spring duck population is at a record high, but returning birds initially found a lower pond count in key areas of the breeding grounds. So, while there will be plenty of ducks to be had, reduced breeding success might result in wary flocks containing more adult birds this fall.
"The age ratio should skew toward older ducks this season, simply because I expect production to be much lower than previous years," said Dr. Frank Rohwer, president of Delta Waterfowl. "That will challenge hunters, since adult ducks are much more difficult to decoy than juveniles."
Still, the annual survey, which has been conducted jointly by the U.S. Fish and Wildlife Service and Canadian Wildlife Service since 1955, is otherwise cause for celebration. It puts the breeding duck population at a 49.52 million, slightly higher than last year's population of 49.15 million and 43 percent above the long-term average.
The survey marks the highest estimates ever recorded for mallards and green-winged teal. Mallards increased 7 percent to 11.64 million, 51 percent above the long-term average. Green-winged teal populations grew by 19 percent to 4.08 million, 98 percent above the long-term average.
"This year's population estimates are not due to great conditions this year, but high because of several consecutive years of great production," Rohwer said. "All the stars aligned in 2014: There was water in all the right places and at all the right times. Despite the declining pond conditions, the data indicates great population carryover from the last few highly successful breeding seasons."
The May pond count registered 6.31 million — 12 percent lower than last year's soaking wet conditions, but still 21 percent above the long-term average. In the U.S. portion of the prairie pothole region, which consists of eastern Montana and the Dakotas, conditions were drier than previous years until significant rains fell in May and June. The Canadian portion of PPR, which encompasses much of Alberta, Saskatchewan and Manitoba, also saw reduced pond estimates. But unlike in the United States, a lack of rains later in spring led to deteriorating conditions for breeding ducks.
Drier wetland conditions can impact duck distribution and production. Several species — notably pintails — will overfly the prairie if their preferred small wetlands are dry when they are settling in spring.
"When birds pass over the prairie pothole region and settle farther north, they typically do not have as high of reproductive success," Rohwer said. "Pintails and mallards tend to continue north when they don't find sufficient seasonal and temporary wetlands on the prairies."
However, ducks that did settle in the Dakotas were likely able to capitalize as wetland conditions improved later in spring. Rains in May and June improved wetland conditions, which should aid duck production in many areas of the U.S. prairies.
"The rains we got in May and June across the eastern Dakotas will probably benefit late nesters like blue-winged teal, gadwalls and scaup," Rohwer said. "It's also likely to spur renesting attempts and aid in duckling survival."
By contrast, most areas of prairie Canada have not received the timely spring rains that occurred in the U.S. prairies. As a result, pond conditions have declined.
"The widespread drier conditions in prairie Canada later in spring will negatively affect duck production," Rohwer said.
In addition to record highs among the breeding populations of mallards and green-winged teal, the gadwall estimate (3.83 million) is the second highest in survey history, and the blue-winged teal estimate (8.55 million) is the species' third highest ever. Population estimates for wigeon (3.04 million), canvasbacks (757,000), redheads (1.2 million), and scaup (4.4 million) are similar to 2014.
Northern shovelers showed the greatest decline, falling 17 percent to 4.39 million but remaining 75 percent above the long-term average. Pintails continue to be a source of concern, declining for the fourth straight year to 3.04 million birds, 24 percent below the long-term average.
The survey data is a reminder that it is a fine era to be a duck hunter. Liberal season frameworks — with the longest allowable seasons and highest daily duck limits — will certainly continue. Record breeding populations of mallards and green-winged teal, along with very high numbers of blue-winged teal and gadwalls, certainly promise the prospect of good duck hunting this year.
"While we anticipate decreased production and fewer young ducks in the fall flight, hunters should look forward to a strong fall flight," Rohwer said.