Delta News
Eastern Survey Area: Most Species Similar to 2014, Black Ducks Decline
Posted on 07/07/2015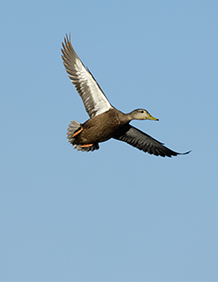 The 2015 Waterfowl Breeding Population and Habitat Survey revealed a record population of 49.52 million ducks — but that only includes ducks observed in the traditional survey area (prairie pothole region, Alaska and western Canada). Of equal importance to Atlantic Flyway duck hunters are the population estimates documented in the eastern survey area.
Conducted jointly by the U.S. Fish and Wildlife Service and Canadian Wildlife Service, the eastern survey area provides estimates for the six most abundant breeding ducks across the eastern United States and Canada.
The results of the 2015 survey indicate statistically similar numbers to 2014 for most species.
Mallards declined 6 percent to 405,700, but remain 2 percent above the long-term average. Green-winged teal fell 3 percent to 221,000, 14 percent below the long-term average. Goldeneyes (common and Barrow's) dropped 8 percent to 357,600, 15 percent below the long-term average. And mergansers (common, red-breasted and hooded) declined 2 percent to 409,300, 7 percent below the long-term average.
Ring-necked ducks showed the only increase, jumping 3 percent to 505,200, which is 2 percent below the long-term average.
Concern remains for an Atlantic Flyway icon, the American black duck, which declined 11 percent to 540,600. At 13 percent below the long-term average, the estimate is the lowest since 2011 and the third lowest recorded since 1990.
Breeding conditions observed in the eastern survey area were a mixed bag. Conditions in northern Quebec and western and central Ontario ranged from good to excellent, thanks to above-average winter and spring precipitation. Conditions were also good in the Maritimes, Newfoundland and Labrador, where above-average precipitation supplemented a heavy winter snowpack, except at higher elevations where excessive ice might have affected nesting.
Maine experienced dry conditions this spring, as a lack of precipitation offset near-record snowfall in February. Southern Ontario and southern Quebec entered winter dry and received little precipitation through winter and spring, resulting in fair conditions.
What does it all mean? Duck numbers are up in the traditional survey area — in some cases way up — and most eastern survey populations showed little change over 2014. It takes the right weather, at the right times, to put ducks over decoys, but the Atlantic Flyway can expect a good fall flight.