Delta News
Observations from the Duck Breeding Grounds
Posted on 07/07/2015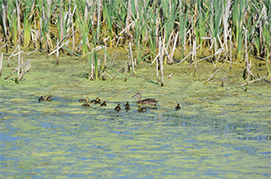 Delta Waterfowl biologists explain the impact of wetland habitat conditions on duck production in the prairie pothole region this spring.
Dr. Frank Rohwer, president and chief biologist
This spring, exceptionally warm weather really hit North Dakota in late March and early April. Unfortunately, the lack of winter snow was apparent. Wetlands looked bad, especially the small and most valuable wetlands — seasonals and temporaries. In many parts of North and South Dakota and even up into Manitoba, most of these smaller wetlands were bone dry in mid-April and being tilled by farmers. I was worried that the next drought was upon us, but then the rains started. Heavy rains in North Dakota put water in seasonal wetlands and temporary ponds, perhaps too late to impact settling rates in the Dakotas, but early enough to influence the nesting effort. So just like last year, we have had a wet, late spring in North Dakota, and that has surely helped stoke a strong renesting effort and elevated survival of the ducks that hatched early. Thus, I expect a good production year, though not an exceptional year. There are simply too many pockets of less than optimal water — especially segments of South Dakota and the western Canadian prairies.
Joel Brice, vice president of waterfowl and recruitment programs
This breeding season, I've had my boots on the ground in Alberta, Manitoba and North Dakota — each more than once. All the way back in January through mid-April, I was pretty concerned about the 2015 breeding season because of a lack of snowpack and spring rain. But as usual, Mother Nature seems to keep everyone guessing and water conditions turned around in large areas of the prairies seemingly overnight. On my last trip to Alberta, wetland conditions were declining, but were still at acceptable levels. As of this past week, I witnessed stable to improving wetland conditions in both Manitoba and North Dakota. While not as impressive as recent, record-breaking years, 2015 didn't turn out too shabby.
Jim Fisher, director of conservation policy
Across prairie Canada, there is a return to drier conditions after a long run of wet years. After becoming used to wetland conditions being superb for a decade, it's surprising to see the return to such dry weather. While drier conditions would have been welcome news for some of our prairie farmers, now the big concern is that it's become too dry. Many crops are already suffering. Ducks returning to the prairie breeding grounds found good carryover water conditions. With spring rainfall being about half of normal for much of Alberta and Saskatchewan, water levels on prairie potholes are reduced. This lowers duck production, as there is less renesting effort and brood survival typically is lower. As always, there is variability in the conditions across the prairies. Extremely dry conditions have persisted in much of Alberta and Saskatchewan, while eastern Saskatchewan and southwestern Manitoba have seen average rainfall.
Matt Chouinard, waterfowl programs manager
As usual, breeding conditions in 2015 seem pretty variable across the prairie pothole region. Travis Quirk, Delta Hen House field contractor in the Dana Hills of Saskatchewan, said conditions started out pretty good in his area, but then the area had the driest May on record. Most of the temporary and seasonal wetlands are dry or getting there. The parklands of Alberta are similar, meaning many hens won't have resources available for the strongest breeding effort. Conversely, North and South Dakota started out on the dry side, but heavy rains over the last couple months have really improved conditions. On a recent trip through the Dakotas, there were numerous shallow wetlands available and the ducks were taking advantage.
Mike Buxton, waterfowl programs coordinator
This year, I have had the opportunity to see many different areas of the breeding grounds at different points of the breeding season. The breeding season started relatively early this year due to a mild winter with below average snowfall. Wetlands thawed earlier this spring than in previous years, which enabled ducks to return to the breeding grounds earlier. Mallards, which are usually one of the first species to nest, began nesting in northern North Dakota in mid-April, as opposed to late April in typical years. Timely rains in May and June filled dry wetland basins, dramatically improving habitat conditions for renesting and brood rearing. The 2015 breeding season should turn out to be fairly productive in adding birds to the fall flight.