Delta News
Delta Waterfowl Honors 35-year Partnership with Dmytriw Family
Posted on 08/04/2015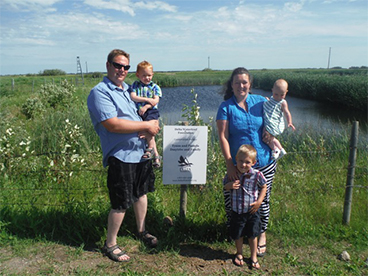 Delta Waterfowl has a long relationship with the landowner community in what waterfowl biologists refer to as the "Minnedosa Pothole Country" in western Manitoba. Recently, Delta celebrated a partnership with the local Dmytriw family, a relationship that stretches back to 1980.
Steve Dmytriw, whose father came to Canada to settle in the Basswood area in 1913, notes that the family has always been interested in nesting ducks on their farm, which is near Rapid City. The family has graciously allowed Delta Waterfowl to conduct research and implement duck production programs on their land.
"As a family we've always followed the research and management work that Delta Waterfowl has done on our farm, from nest searching to the Predator Management work they do," Steve Dmytriw said.
Tyson Dmytriw, one of Steve and Bernice's three sons, owns an adjacent farm with his wife Pam. They too, are carrying on the tradition of partnership with Delta Waterfowl.
Mike Johnson, a graduate student at the University of Minnesota who is conducting research for Delta Waterfowl, delivered commemorative signs that recognize the long relationship with the Dmytriw family.
"The history of our partnership with the Dmytriw family is incredible," Johnson said. "We could not do the work we do for ducks without help from landowners like Steve and Tyson."
Johnson is managing a crew of more than a dozen student assistants based at Delta Waterfowl's field station near Minnedosa, Manitoba. Johnson is the latest of a long line of graduate students to conduct graduate research on the waterfowl that nest and raise broods within the privately owned pothole country. The current study is testing the impact of predator removal on the nest success of ducks such as canvasbacks that nest in the flooded cover within wetland margins.
Jonathan Scarth, senior vice president of policy based in the Winnipeg office, reflected on the long history of research and management work Delta Waterfowl has conducted in the Minnedosa area, noting the enduring friendships that have been built over the decades.
"Delta Waterfowl is The Duck Hunters Organization, and all of our members across the United States and Canada appreciate the role that private landowners play in conserving wetland and upland habitat for ducks," he said.