Delta News
Clarke Valued Delta's Student Research Program
Paul Wait, Magazine Editor on 08/11/2015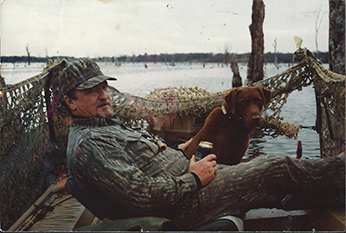 EDWARD CLARKE of Dallas, Texas, a long-time member of the Delta Waterfowl Board of Directors, died June 26. He was 74 years old.
An engineer by trade, Clarke was introduced to Delta's student research program in 2000 during a visit to Delta's Research Station in Manitoba.
"He really became interested in the technical data of the waterfowl research," said Jason Tharpe, chief operating officer for Delta Waterfowl. "The student research really lit a spark for Ed."
Clarke was an avid duck hunter and conservationist. He was appointed to Delta's Board in 2001, and served thorough 2011. He was named vice chairman, and served on the Board's Research Committee.
Beyond his Board service, Clarke was a true ambassador for the organization in Texas, where he attended numerous fund-raising events and spoke at town hall style meetings on behalf of Delta.
"He went to almost every banquet in Texas," Tharpe said. "He was very much a grassroots guy. He would win a shotgun, and then turn around and give it to a kid."
During his career, Clarke worked for Johnson Controls and Packaged Systems Inc., where he met his future business partners. Together, they founded companies that merged to create Flow Design in 1987. Clarke retired in 2000.
Clarke was a church elder, and vice president of the board for the Children's Oncology Services of Texas, where he chaired fundraising for construction of the Dallas Ronald McDonald House. He is survived by Rita Wells Clarke, his wife of 54 years, and three daughters.
"Ed was a fun-loving guy who loved duck hunting," Tharpe said. "He consumed life in a wonderful, fantastic way."
In honor of Clarke and Dennis Blevins, a fellow Texan who also served on Delta's Board and died earlier in 2015, Delta has established the Ed Clarke and Dennis Blevins Award of Excellence. The award and an annual award stipend will be given to an outstanding student conducting waterfowl research for Delta Waterfowl. For more information or to contribute, contact Lori Schacher at (888) 987-3695 ext. 223, or email lschacher@deltawaterfowl.org.