Delta News
Connecticut Chapter Works to Boost Wood Ducks
Posted on 08/18/2015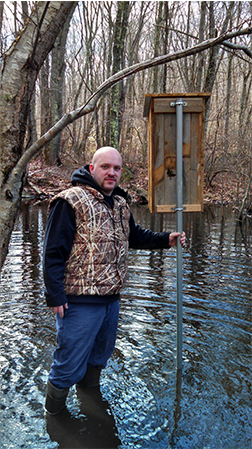 LAST SPRING, the Connecticut Chapter of Delta Waterfowl approached the Avalonia Land Trust — holder of some of the state's most productive coastal marshes — with an idea: Why not work together to boost wood duck production?
"Avalonia isn't a hunting organization, but they quickly recognized that our conservation goals align," said Dave Lersch, chapter chairman. "They eagerly encouraged us to begin habitat projects, including wood duck box installations."
In March, the Connecticut Chapter installed 60 wood-duck boxes across five Avalonia properties and one additional trust's property. Through an agreement with the Connecticut Department of Energy and Environmental Protection, state biologists will annually inspect, clean and gather data from the boxes. The chapter will annually install new nesting structures.
"The relationship is adding more ducks to the flyway and educating non-hunters about our commitment to conservation," Lersch said. "We've been in contact with additional land trusts, schools, conservancies and private landowners about the benefits of Delta programs."