Delta News
Environment Canada Offers Migratory Game Bird Hunting e-Permits
Posted on 08/18/2015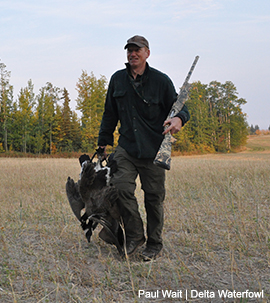 Canadian waterfowlers and traveling Americans will appreciate this modern convenience: Earlier this month, Environment Canada began offering Migratory Game Bird Hunting e-Permits online. The e-permitting system, available at https://www.permis-permits.ec.gc.ca/en, accepts major credit cards and allows hunters to print their permits from the comfort of home.
The e-Permit includes an image of the Canadian Wildlife Habitat Conservation Stamp, formerly a separate purchase. Cost of the e-permit is $17, which is equal to the physical permit ($8.50) and conservation stamp ($8.50).
The Migratory Game Bird Hunting Permit was introduced in 1966 to provide accurate estimates of hunter participation and duck harvest data. According to Environment Canada, the new electronic permits will make it easier for hunters to respond to survey questions, and improve the speed and efficiency of setting regulations and harvest management plans.
Conservation stamp sales benefit Wildlife Habitat Canada's grant program, supporting habitat projects that include wetland and waterfowl conservation efforts. Since 1984, Wildlife Habitat Canada has invested more than $50 million and leveraged more than $150 million through its grant program in support of more than 1,500 conservation projects across Canada.